The city of Tromsø during the polar night. There is 10:30 in the morning on the photo above. It was getting brighter until about midday. Then Tromsø dressed itself in the shades of night again.                
The last part of Our Cultures' journey, Tromsø
experienced between 11 November 2020 – 21 January 2021
7 minutes read
Arrival and the first member of the local community
We spent 2,5 months in which we traveled through 10 different countries, altogether covering a distance of nearly 10 000 km and here it finally was: the city of Tromsø.
What we saw on screens, pictures and in our imagination only, was suddenly right in the front of us dressed in sparkling night lights. At the same time we knew that the journey wasn't finished yet, but that a new chapter of our life would start here.
We arrived around 8 pm at our Airbnb accommodation which we had booked for the next two days, determined to find a flat until then. Ruth, Fridolin (the cat) and Skirka (the dog), our hosts greeted us warmly and not too long after we found ourselves already chatting away about Norway, Tromsø and what brought us here.
Ruth moved to Tromsø from Switzerland 12 years ago. Like us, she fell in love with the countryside, especially nature far up North. When the opportunity arose to move, she took it without hesitation, despite the basic Norwegian she spoke at that time. Ever since, Tromsø has become her home. She is settled here, knows a lot about the culture, the politics and many events happening in the city. We look forward to getting to know her more.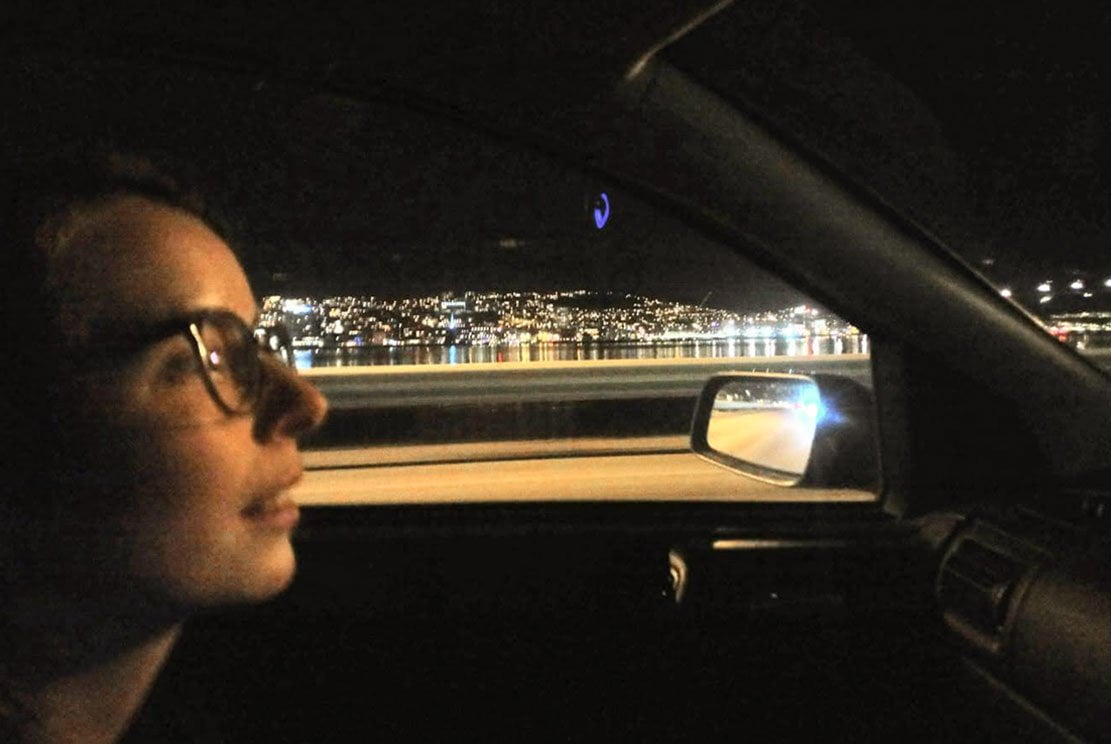 Méline, just at the moment when we entered the city of Tromsø fully. Its centre lies on the island Tromsøya you see at the back.
Moving to the north-west of the island Tromsøya
For the next day, we had arranged a few flat viewings. These took us quite around town and the surroundings and gave us a better sense of what would become our new hometown. After each viewing, when the impression was still fresh, we wrote down the pros and cons which helped us later to reach a decision about the apartments. Nevertheless, there's still this gut feeling that I wouldn't ignore. In fact, with hindsight my decisions were often based on that  feeling, even when I tried to ignore it for a while, in the end the rational mind followed the heart.
So we decided to move to Hamna, in the North-West of the island of Tromsøya in a flat with a beautiful view over the mountains of Ringvassøya, Kvaløya and the Tromsøysundet (a strait) which have been mesmerising us ever since.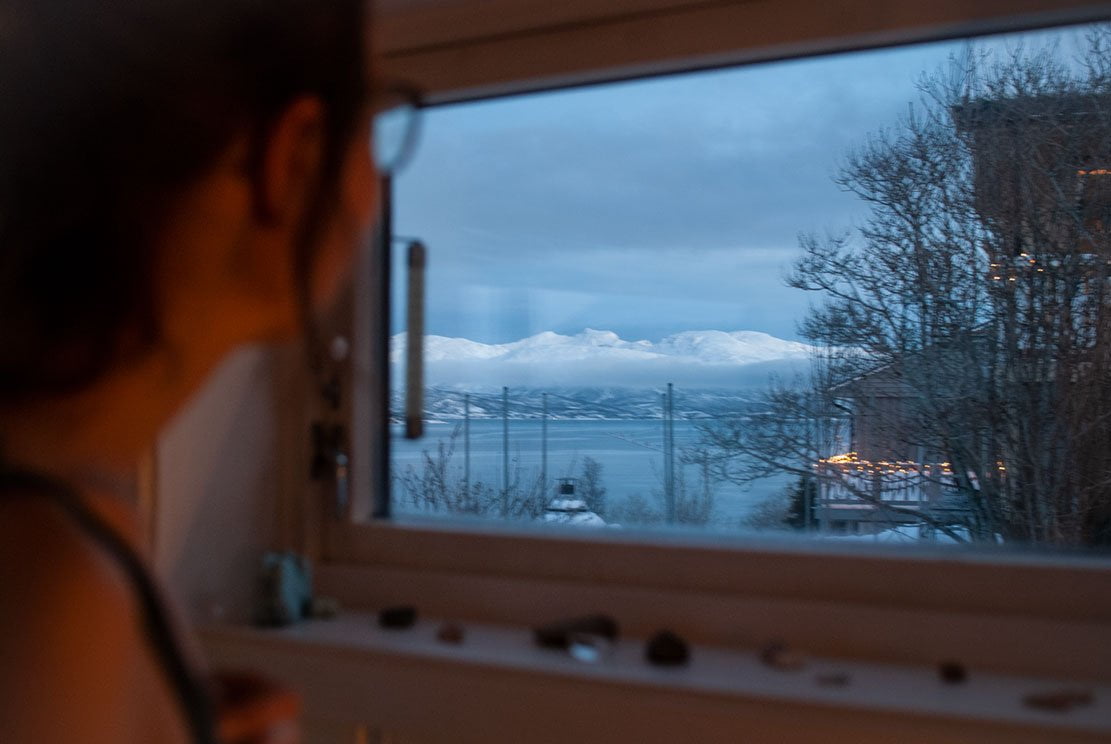 In between those mountains are freshwater lakes from where we got our water supply.
Gathering free furniture
The flat came equipped with a kitchen with a cooker, fridge, dishwasher and a washing machine in the bathroom. So it was up to us to get the rest of the furniture. We already knew about the Norwegian website finn.no where we were looking for a place to rent. However, we realised only then how valuable this platform really was. It is kind of a blend of the renowned websites like google, google maps, ebay, gumtree, etc.. Here you can find everything from flats to rent or buy, to used household items for free or for next to nothing. And in fact, we obtained most of our home furnishings for free.
We are pleased about it. On one hand because all the items are of good quality and on the other hand, because we are extending the lifetime of these objects for another decade or more.
If we take a moment to think of all the products that are surrounding us, those in proximity, those which are in other people's households. Think of all the objects of the cities we live in, of the whole country to finally expand this thought to the whole world. You can literally get dizzy. Isn't it absurd that despite this we are still producing more and buying new things? Shouldn't we ask ourselves over and over again "Do I really need this or that thing?", "Is there perhaps someone else who has such a thing who doesn't need it anymore?", ''What platforms are available to search for such items?'', "Can I repair, reuse or upcycle it?" We certainly think that everyone should do this first.
The timing was ideal when we found a sleeping sofa on finn.no a few hours after we moved into our new home. As it was for Aurora to surprise us on that first night when our landlords invited us out in the front garden to admire it with them. This would be the first night of many more in which the Auroras Borealis would dance on the night sky just above our window, calling us out.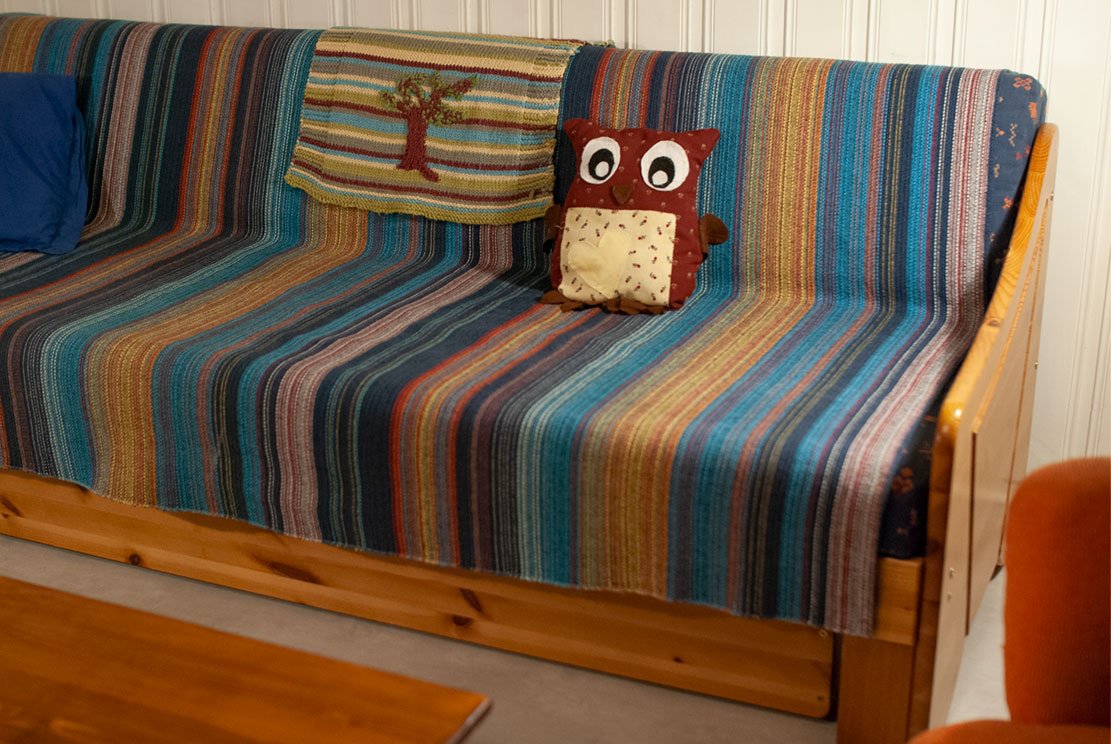 Sofa bed that we got for free from www.finn.no among other good quality furniture.
Fermenting our own food
Coming back to bread baking which we mentioned in our last blog post. Inspired by Eva, (our Workaway host on Engeløya) who bakes her own rye bread, we got in touch with the people of Tromsø through a Facebook group called "Tromsø hjelper Tromsø" (Tromsø helps Tromsø) to ask for some spare sourdough cultures. In no time quite a few people answered to our post offering us their sourdough cultures. In the end, we went to collect some from Ina, originally from Germany who moved to Tromsø 22 years ago. From her hometown in the federal state of Thüringen, she imported some cultures from a local baker, who are said to be more than 1000 years old. Here we go! Yeast older then our grandmas together : )
Since, our kitchen has turned into a baking/fermenting/experimenting laboratory in which we are closely collaborating with some yeasts and bacterias. In terms of bread, we are playing with different percentages of flours and water, temperatures and rising time. At the same time, Jozef has started with the primary fermentation stage of the must which will be ready for us to drink as wine only in 2023. And I have made some soya yoghurt out of these microscopic creatures, too.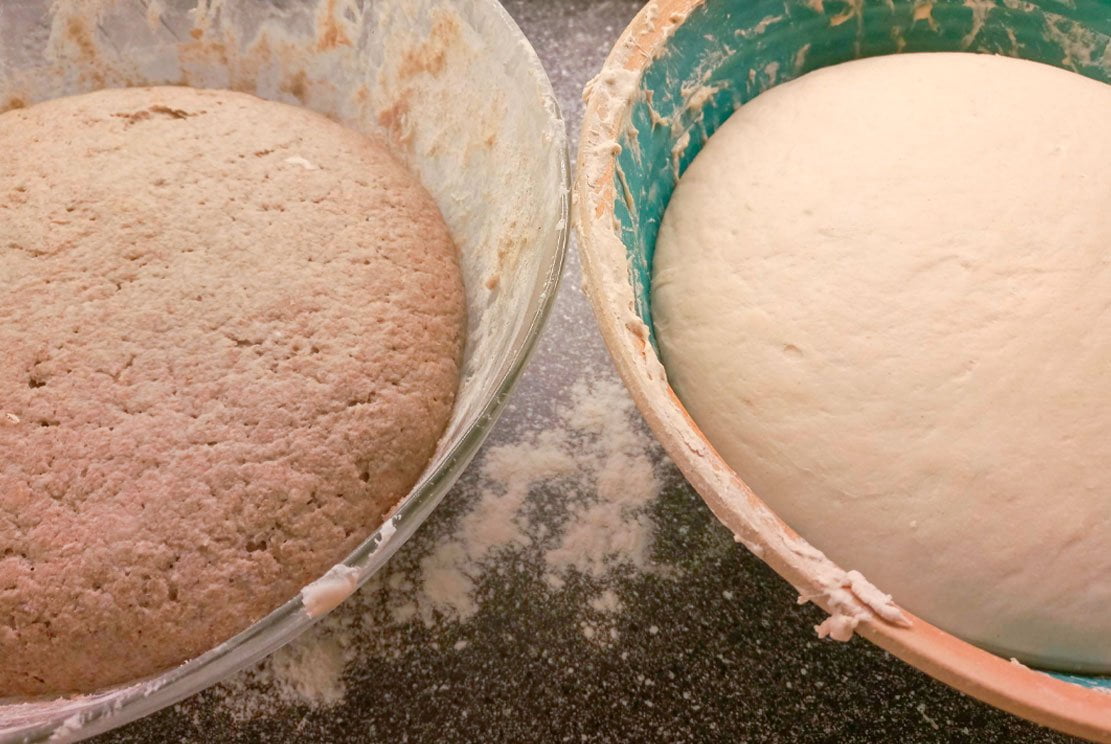 Experimenting with sourdough. On the left rye on the right wheat : )
Making friends
Talking about small creatures. When we left Eva's place, she asked us to take a bucket full of earthworms with us and fetch it to Nathanaël, a sound engineer living in Tromsø who also sells crêpes on Saturdays!
He stayed at Eva's as a Workaway volunteer in the past as well and was supposed to record these worms as part of an art project and exhibition. And that's how we got to know Nathanaël who welcomed us warmly and straight away invited us to a small raclette party with people from all over the world.
When we first got in touch with Eva, we were hoping that she would give us not only a good understanding of the world of growing vegetables, taking care about a smallholding, but also into the Norwegian culture and the people living here. That she certainly did for which we are very thankful!
Until now, we have spent some time with Nathanaël, his partner Teresa and their friend Øystein. We celebrated Christmas and New Year's Eve together, each time over good food and interesting conversations where we got to know one another more.
We talked about all sorts of things, among others about ways of cultivating the land in the Arctic and about various projects in Tromsø or elsewhere, including the Participatory Guarantee Systems (locally focused quality assurance systems), Holt (sustainable Arctic agriculture based in Tromsø) and more.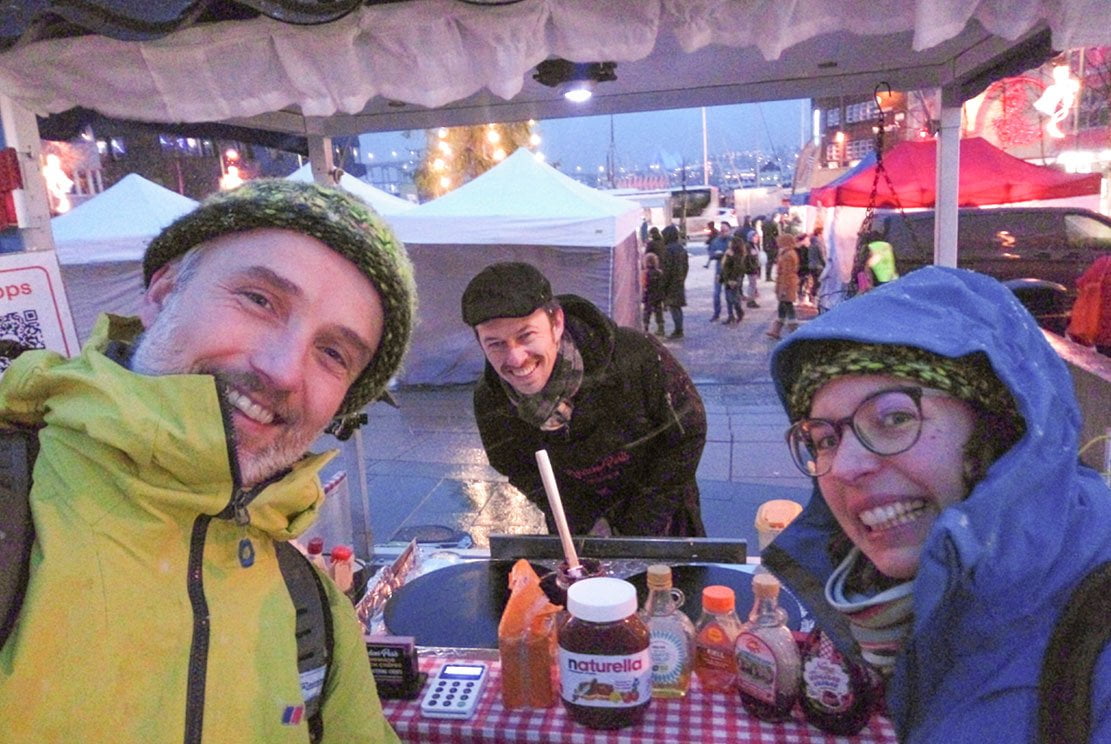 Learning Norwegian language
Besides these first interactions with some lovely people, we are quite focused on learning the Norwegian language, then looking for work and exploring the surroundings with its astonishing nature.
Learning the language started with a really good platform made by the Norwegian University of Science and Technology NTNU and that's for free! There you'll find different levels of language skills that include listening, reading, writing, learning software and testing. It truly is an amazing tool.
Furthermore, we listen to NRK P2 radio where people mostly speak about various topics. There are no adverts, but some music, usually evenings and nights. Additionally, we are watching documentaries on NRK (Norwegian state owned broadcasting company) about nature and people with Norwegian subtitles. It helps you to recognise the words better as some people speak really fast.
The practice of the language takes place between us and the Rød Kors (the Norwegian Red Cross). The organisation, among many other activities related to helping people, organises language cafés. However, during the pandemic it all takes place online. It is a great way to practice and get to know the people while getting further hints of the Norwegian culture via langage cafés' facilitators and locals involved in it. 
Learning the land and the culture
Our first bigger hike was to the mountain Bønntuva where we could see the sun's glow far in the south during the polar night, at the time. The clouds were dyed into a magnificent orange. Since mid-November the polar night has arrived and the sun has no longer crossed the horizon up here. Nevertheless, this doesn't imply that the skies are pitch black, but more tainted into a magical blue and few hours of daylight a day. We have actually realised how much more observant we have become in differentiating the various shades and intensity of the colors and the light itself.
The return of the sun on the 21st January, our first public event, was a very special moment. People gathered at Telegrafbukta, the southernmost tip of the island, to welcome the sun back, eating Berlinerbolle (sweet golden pastry) and drinking tea around the fire while watching the sun.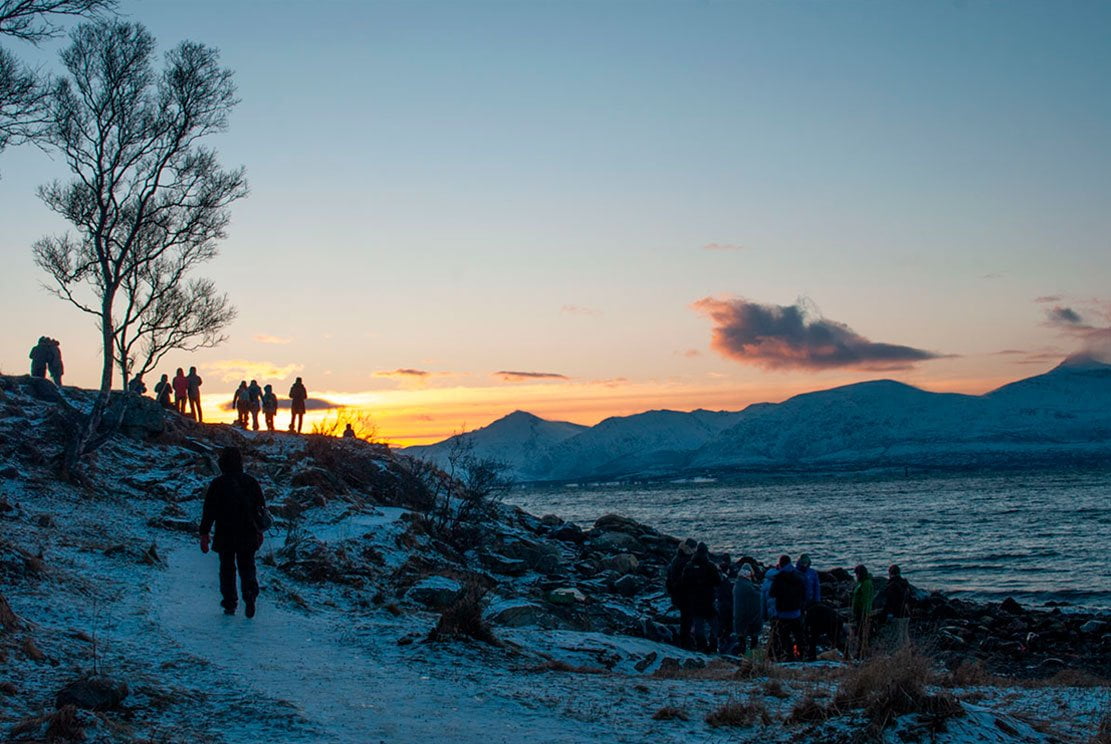 Tromsøværinger (people of Tromsø) welcoming and celebrating the Sun that has returned to the city on 21st January, hovering slightly above the horizon at midday.
Final words
 
After the first two months in Tromsø, we feel quite settled and believe that the New year will bring us more opportunities, such as volunteering, connecting and becoming a part of the local community.
At the moment, we are waiting for the snow to come so we could go snowshoeing with Ruth (the Airbnb host) in the beautiful mountains we are surrounded by and get to know nature and the people around better.
All in all, we are happy to be here.
If you would like to follow our future blog posts, see how and what we do in Tormsø, learn about the projects we'll be running, subscribe to our newsletter to get notified. 
May you and your loved ones stay healthy, open for whatever comes and deal with it well.
That's all for now. Take care.
M+J
😊😊