Mjeldberget mountain on Engeløya island, municipality Steigen, Norway in the very front                                                                                                                 
Scandinavia, nature and working manually
experienced between 16 October – 10 November 2020
6 minutes read
Bridges between Scandinavian countries, municipalities, villages and towns
The next part of our journey up North went through Scandinavia. From the North of Germany where we stayed with my mother, we crossed the border to Denmark a few hours later. Two friendly border police officers stopped us, but after a short interaction, we were back on the road.
Denmark is also often referred to as the Danish Archipelago. This is for its peninsula which borders mainland Germany and its many scattered islands around. These are connected by bridges, a few of which we crossed with amazement. Humans have such great intellect to understand how nature and natural forces work. It enables us to design and build massive constructions, like the Great Belt Bridge. Unfortunately, we often use our intellect against nature. Hence, systematically destroying the environment we live in. A behaviour that no other species on earth has.
In the late afternoon, we traversed the Øresund Bridge bonding Denmark and Sweden. So many walls have been built between countries instead of bridges like this one. We hope that we could all shift our thinking to become more understanding and reaching out to the "other". Somehow, building a bridge in a metaphorical way.
Øresund Bridge bonding Denmark and Sweden
Freedom to roam
By entering Northern Europe, we were officially allowed to wild camp in the outdoors. The "allemansretten", literally "everyman's right" or "the freedom to roam" is a practice that has been commonly used for hundreds of years. In some countries, like Norway in 1957, the right to roam has been legally recognised. However, the right of public access also entails some responsibilities. These are to take away your rubbish and to respect the environment and all the life forms that we share it with.
So here we were in the middle of the Store Mosse National Park in Sweden snuggled up in our sleeping bags to get some rest for the next day. : )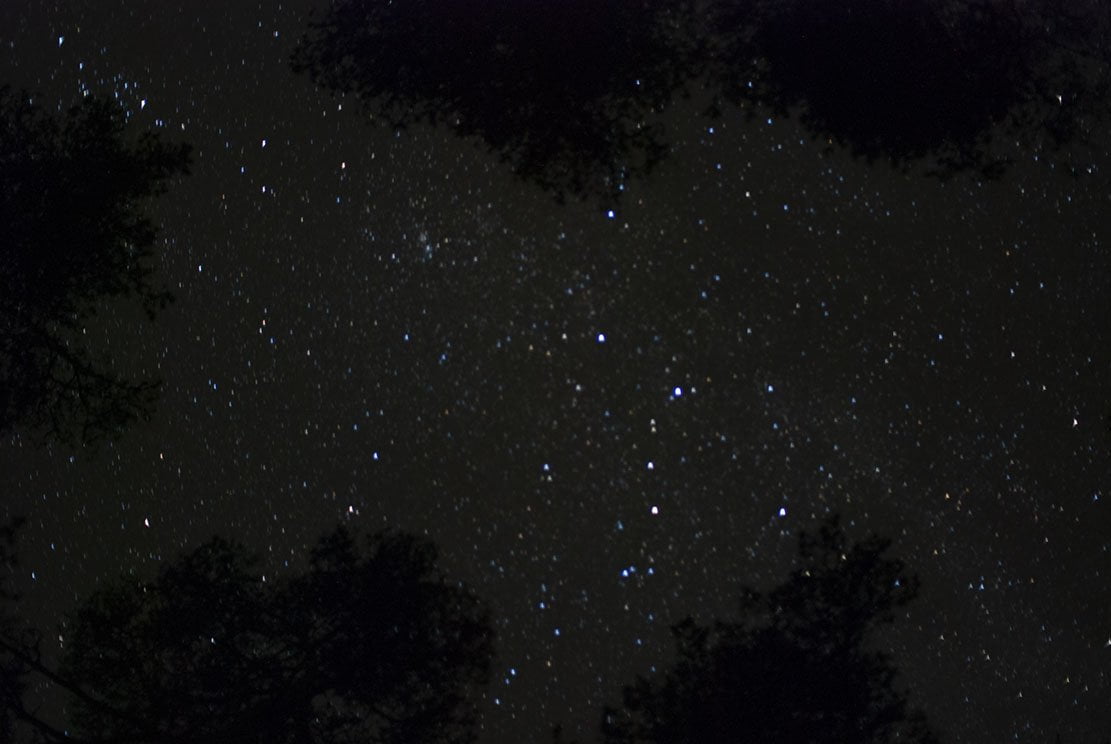 magical night sky surrounded with shades of pine trees
The pearls of Swedish outdoors
The itinerary for the days ahead was to drive along Sweden's eastern coastline up to Lapland. Then, we would turn westwards to head towards the Norwegian border. While driving along the Gulf of Bothnia, the restlessness turned into silence the further North we were. The roads became less and less full, the land less and less populated, and the noise disappeared leaving space for quiet only.
As the snow was forecasted, we booked ourselves a small place to spend the night. The location gave the impression of being kind of in the middle of nowhere. The key to the accommodation was left in the lock as we were notified by the landlord. However, not from the inside but the outside to indicate that we're at the right place. We were pleased to see in front of our eyes that the many articles we read about the high level of trust in the nordic countries were real.
The snow did indeed greet us the next day and we carried on the journey towards Norway. Today would be "the day" that we would finally arrive there! But before we were nicely surprised by a herd of reindeer that was happily walking on the full width of the road. It didn't seem to bother them much when we were driving behind them. Only after a while, the first reindeer moved to the side and the others followed. What an early morning spectacle!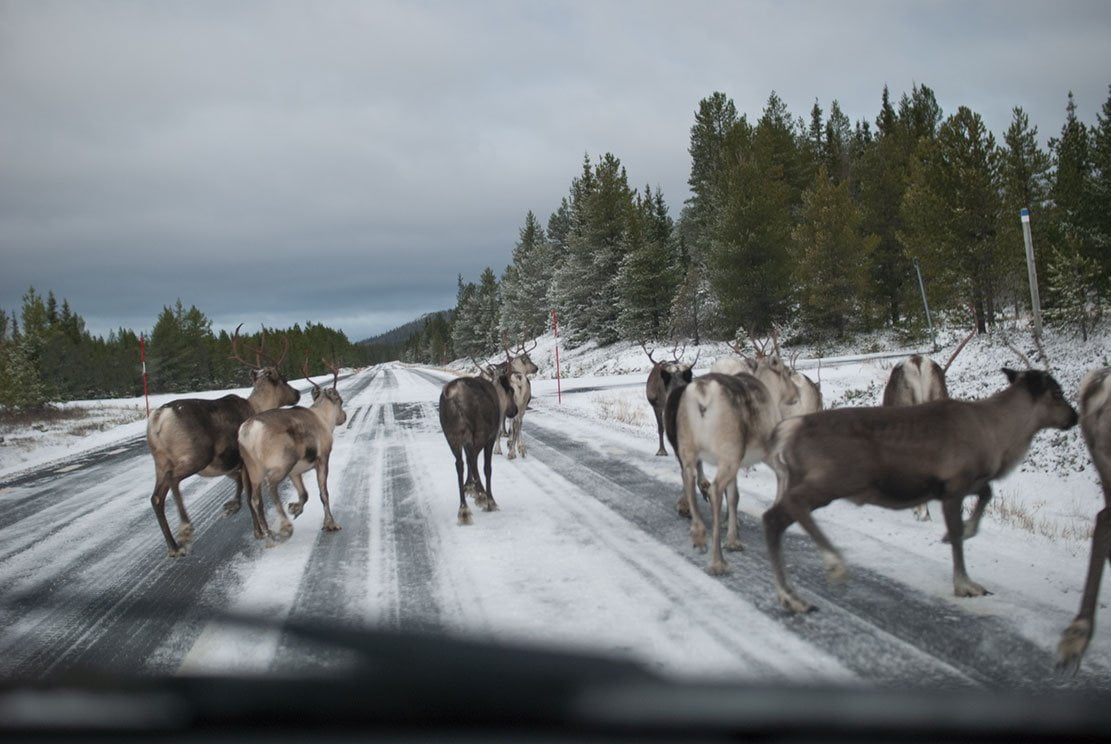 reindeer walking in the front of us for a while far up north in Swedish Lapland
Manual work and outdoors 
We approached the Norwegian border, excited and a bit nervous at the same time. Nervous because of not knowing the exact weight of our car anymore and actually thinking we could  be overloaded a little. There, two friendly police officers stopped us. They noticed our winter tyres, checked the invitation/quarantine letter from Eva and wished us nice holidays without knowing that our intention is to stay permanently.
Velkommen til Norge!
With big smiles on our faces, we arrived at Eva's place on Engeløya after a few more hours of drive. It felt surreal somehow to see her in the doorframe of her house after all these months of planning and changing plans. We were welcomed with a nice meal and nice chats around the table of which many would follow.
The next morning, Eva set up a to-do-list for the next three weeks at hers. The list contained all sorts of things, such as wood chopping, window cleaning, and garlic planting. As well as harvesting, compost making, socks mending, and other kinds of handwork. We enjoyed it all!
We loved being active outdoors nearly all day long surrounded by beautiful scenery: mountains as far as the eye can see. Being in touch with nature and working manually was so refreshing from the more predominant work behind the desk we usually do. I realised even more how much time I spent sitting on a chair staring into books or a screen. 13 years of school education, eight years at university, and four years in my last two jobs…far too long! Nevertheless, we believe that a good balance between the two is important. So both physical work and work with our mind. We found that yoga and meditation help us too to stay in balance.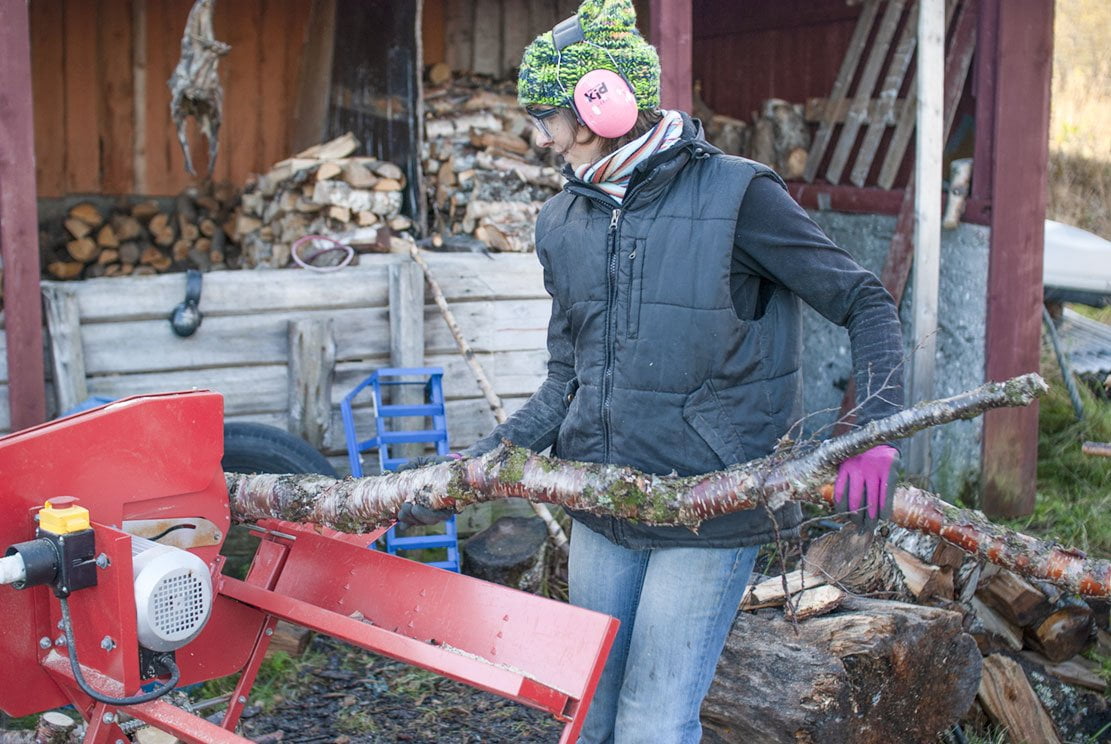 Méline is enjoying all of it! : )
A note on that. When we travel or when we are in a different location, we often stop our daily morning practise of yoga and meditation. This happened again while we traveled through Europe. A period of time where we slept at different places and where things didn't always go smoothly. However, we realised that in fact, it is exactly in these moments, when we are away from our habitual environment that we would need it the most. So when we arrived at Eva's place, we finally reintroduced our morning routine.
Handwork and creations
Besides the birds that came picking some grains in the birdhouse next to the kitchen window, there's also Tiger. Tiger is a very old cat lady (18 years old) who appeared from time to time to get some cuddles. And there are also the chickens, altogether eight, including Mr. Coquerol. I would never have thought that chickens can put a smile on your face so easily. They are sweet and jolly. So each morning when opening the chicken coop, I caught myself smiling. 
Eva showed us how to bake sourdough bread with a culture she keeps feeding each time she bakes bread. The evening before she prepared the "dough starter". This is a culture of yeast and beneficial bacteria that naturally occur in bread flour which is allowed to ferment. The next day, we added more ingredients and gave it time to rise. Later, we kneaded the dough carefully before it went into the oven. There's nothing like warm fresh bread, is there?
According to research, sourdough bread has significant benefits for our health. It's more digestible because the slow fermentation process allows the chains of gluten to break down more thoroughly. It's also good for our gut bacteria. The prebiotics (a specialised plant fiber that acts as food for the good bacteria) can survive the high heat as opposed to the probiotics (living strains of bacteria). On the top, our body can better absorb the nutrients since the phytic acid is also broken down in the fermentation process. We are considering baking sourdough bread in the future, too.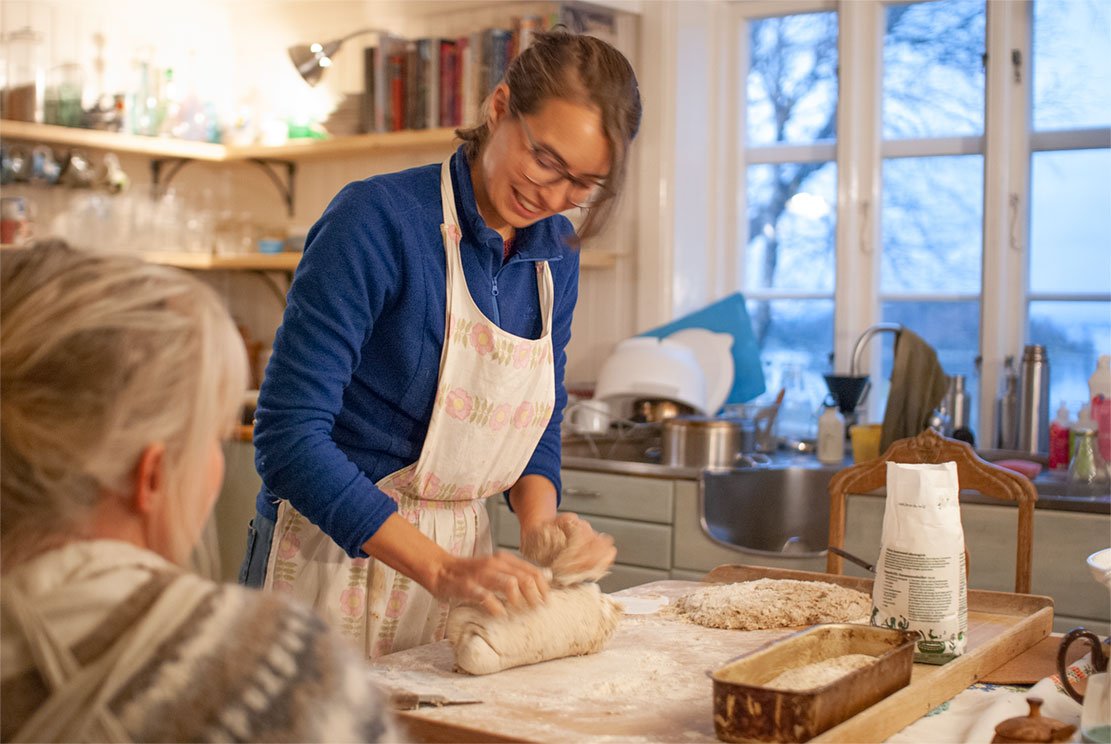 Eva is teaching us how to knead sourdough in its final stage before it's baked
The mountains
The mountains we were exposed to eventually called us. So we went up to the top of the Sætertinden which was still covered with snow. From the summit, we could see far to the beautiful Lofoten Archipelago, an around 174 km long mountain chain.
A week later, we met Fenja, a young woman from Germany. She was a Workaway volunteer, like us but on the neighbouring sheep farm. She invited us for a trip with some other friends, among them Lydia and Simon, a couple from Sweden. All together we went to Nordskot where we spent the day on the wall, rope climbing. It's so nice to meet many different people, hear their stories, and get mutually inspired. Fenja, for example, has taken a break from her law studies in Germany to experience nature and life up North for some time.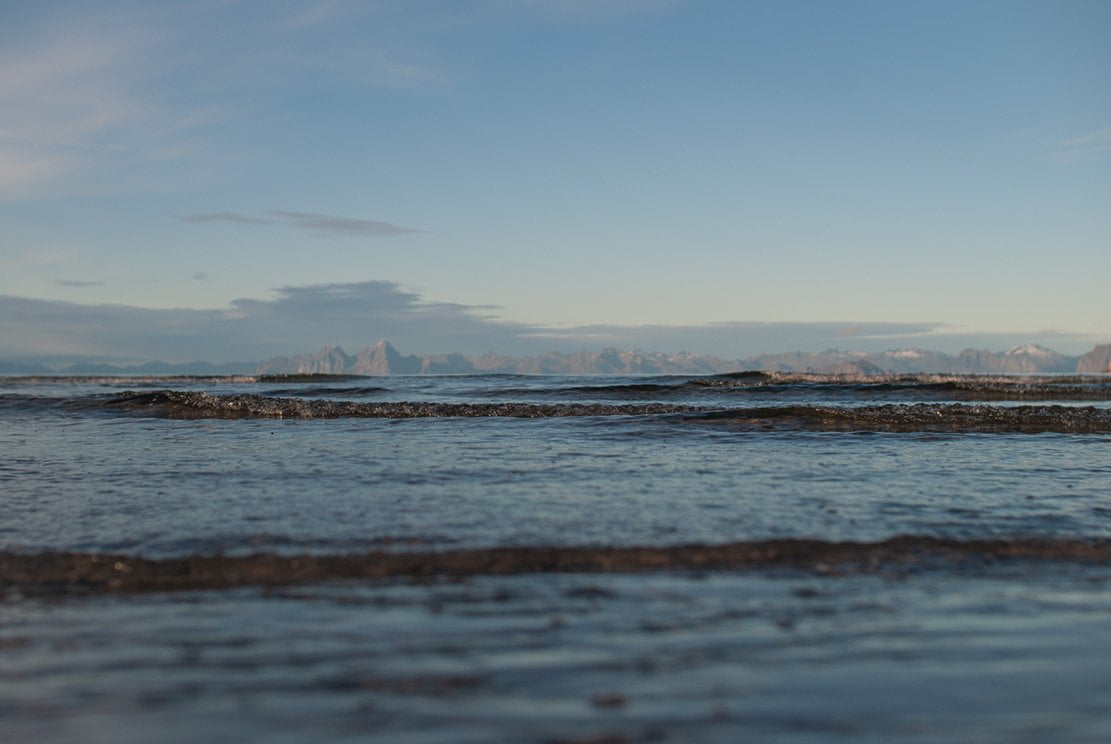 Vestfjorden (a fjord at the Norwegian sea) and the magical Lofoten at the background
A glimpse of the island community and goodbye
We also met some of Eva's friends who live on the island and got a little insight into the community life here. People pop in for a coffee without notice, spend time together to prepare a funeral speech, and help each other out with tools, advice, or an open ear. On the other hand, there is also the neighbour polluting the night sky with their many bright lights, obstructing aurora borealis views. Some young people want a motocross trail and there's a lack of kindergarten places. So not always a walk in the park, but that's how it is everywhere, isn't it?  Since we would like to live more rural in the future too, we are glad for the impression we could glimpse here.
The three weeks at Eva's helped us to recharge our batteries after about two months of being on the road for the last bit of the journey to Tromsø. Even though we have already arranged some flat viewings, we don't know yet how things will go. So it's good to embark with new energy.
Now less than 500 km and we will finally reach our destination. We can't wait!
We hope that you are well wherever you are.
Talk to you in a few weeks. 
M+J
😊😊
P.S.
Here you have access to additional photos. If you don't have a Facebook account just select 'Not Now' under and see them all.