The Isle of Skye. Very similar to Lofoten (an archipelago in Norway) that is the place we are heading to live close by.
Nothing is impossible, it just takes longer
experienced between 16-25 August 2020
4 minutes read
What a beginning of our journey!
After several months of the pandemic delays, we're still in Sheffield. Our plans have changed again as our fully packed van broke down. This happened shortly after we left our tenancy ready for the journey.
It was on the Isle of Skye that the very first idea to go to Norway came to life. Since it has evolved somewhat accompanied by many unforeseen happenings.
"And what if we went to Norway for a couple of months each year?" It was in May 2019, when we were hiking the Isle of Skye from North to South, that exactly this thought came to our mind. The nature of the Hebrides with its lochs and mountains may well have contributed to it. Having said that the nature of the North of Norway is actually very similar.
In our minds, we saw ourselves already there. How we would work on a farm or in a hostel for about two months every year. How we would learn from the culture of the most equal country on the planet. And how we would then implement these values throughout our projects in Sheffield.
Shortly after we met Ray, a former mountain guide who lives on the Isle of Skye. We chatted with him for more than half an hour over his fence and mentioned the vivid picture we drew in our heads. He told us about websites such as Woofers and Workaway where you can find a host in whichever country you like. In exchange for your help (for 5 hours a day, 5 days a week), the host accommodates and feeds you. During your free time, you can explore the surroundings. Amazing platforms!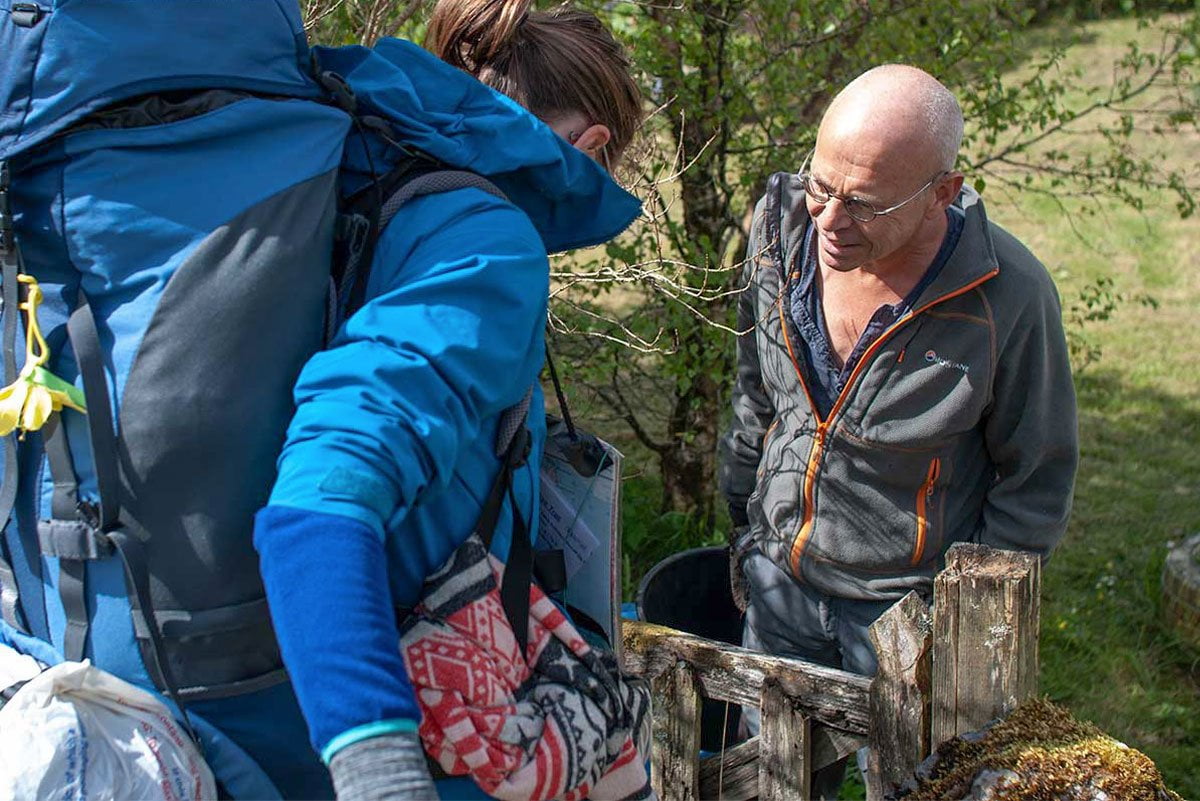 Ray, the former mountain guide checking our route then telling us about the Workaway platform
Back home we created a profile on Workaway and soon came across Eva who lives on the island of Engeløya. She often needs volunteers to help out in the garden. But volunteers may also help with preserving food as well as with buildings and repairs of all kinds.​​
We were delighted when Eva agreed for us to come in the middle of May after our wedding celebration​​. Later on, we chatted together over a video call and ​liked each other straight away! From her, we would learn a lot about permaculture, food preservation, and Norwegian culture.
However, the initial idea developed after we learned more about Norway. Instead of staying there for a couple of months every year, we now wanted to live there altogether! From the research we made, we realised that this is the place we would like to settle. It is also the place where we would like to have a family and work together for the common good. And last but not least, we will be closer to nature there, too which is an important aspect for both of us.
Jozef and I grew up in small towns where nature was a part of our lives. While Jozef was spending his childhood in the woods and mountains, I was playing in the fields and on the beach. We wish our children to experience this too. We want to see them immersed by nature where they can move freely. In contrast to living amid concrete blocks and traffic. In fact, up north where we're moving to, will be both, the ocean and mountains.
Looking ahead, we also believe that there will be more opportunities for our children. Education and health care are free. Equality, cooperation, and care for the environment are values that are part of daily life. Kids, for example, don't get grades until year 8. This creates an environment that isn't focused on performance and competition. Furthermore, Norwegian children understand the importance of nature from an early age. This is due to them spending a significant amount of time in nursery outdoors. Actually, around 70% during summers and 30% in winters.
Generally speaking, the emphasis is on a good quality of life. As opposed to performance, competition, and wealth accumulation.
However, because of the pandemic, we were not able to travel to Engeløya as planned in May and stay there for a month. During this time we also wanted to visit Tromsø, the place we'd like to make our new home.
So far to the background story.
But now back to Sheffield where we still are. Well, to be more precise, we are in our neighbour John's courtyard fixing the second car. This one shall take us all the way to Tromsø from Sheffield via France, Germany, and Slovakia.
Our first car (a van), we named Aurora, unfortunately, decided to "retire" on the day of our planned departure. White smoke came out of the exhaust and eventually the engine no longer started.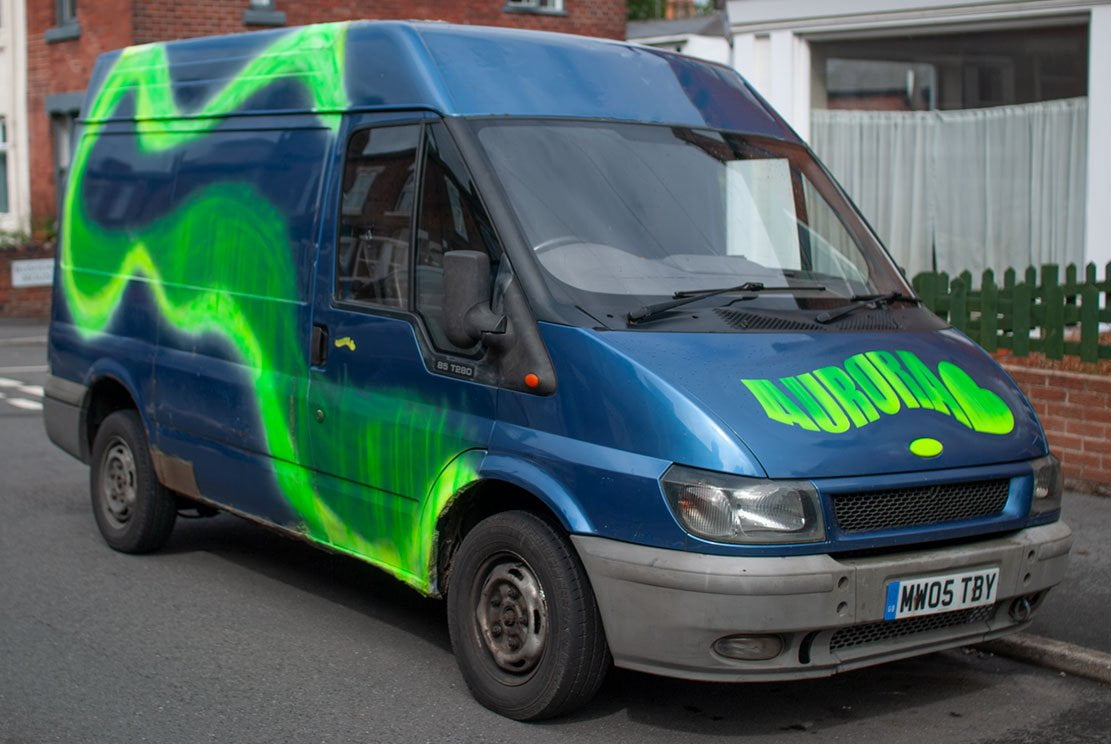 Aurora our first transport decided to "retire" when fully loaded with our belongings 
This all came unexpectedly. We only had Aurora for a couple of months. During this time, we had done a lot of repairs while also converting her into a beautiful piece of art. It was the first challenge. After two long days of packing and cleaning, we felt quite exhausted. At the same time, we learned a lot about ourselves and how to work together under stress and uncertainty. It gets you out of your comfort zone for sure. But as Pippi Longstocking says:" I haven't done it before, so I can most likely do it!"
So we scrapped the van but the story doesn't end here as we received a phone call from John shortly after. Andrew, John's grandson, wanted to give us his car! Who would tell? 
This is how we came to our second car. It is in good conditions but the head gasket is causing problems which will be easy to fix, we think. Jozef and John are currently working on it. We're still not sure whether it will be our companion on the trip.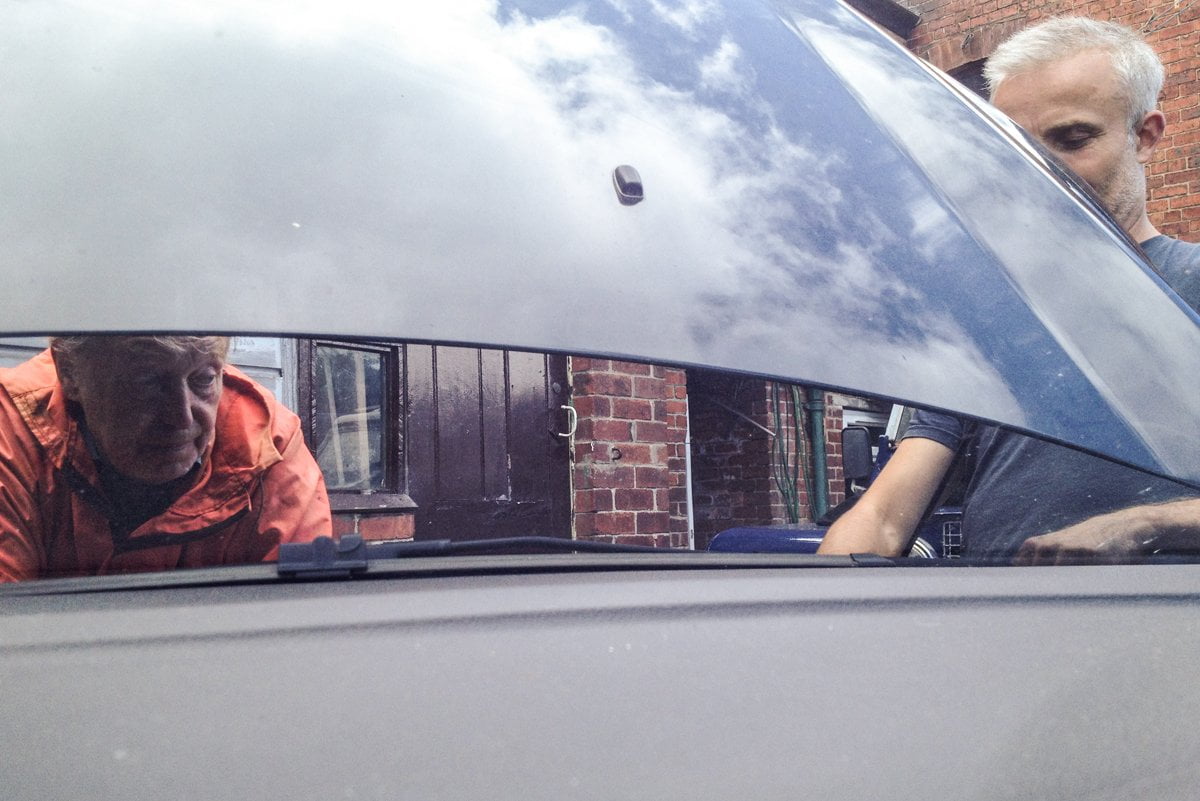 John and Jozef are trying to fix the second (given) car.
Gradually
arriving to the conclusion that it might not be as
easily
fixable as
initially
thought
.
The journey has begun. Let's see what the following days and weeks will bring us!
So bye for now and hopefully next time we'll be posting from another country on our journey to Norway.
 M+J
😊😊