Islam is an Arabic word meaning "submission (to God)" and is described as a "Deen" in Arabic, meaning "way of life" and/or "religion". It has an etymological relationship to other Arabic words, such as Salaam, meaning "peace". The Arabic word "Muslim" is related to the word Islam and means a "vassal" of God and "one who surrendered" or submits (to God).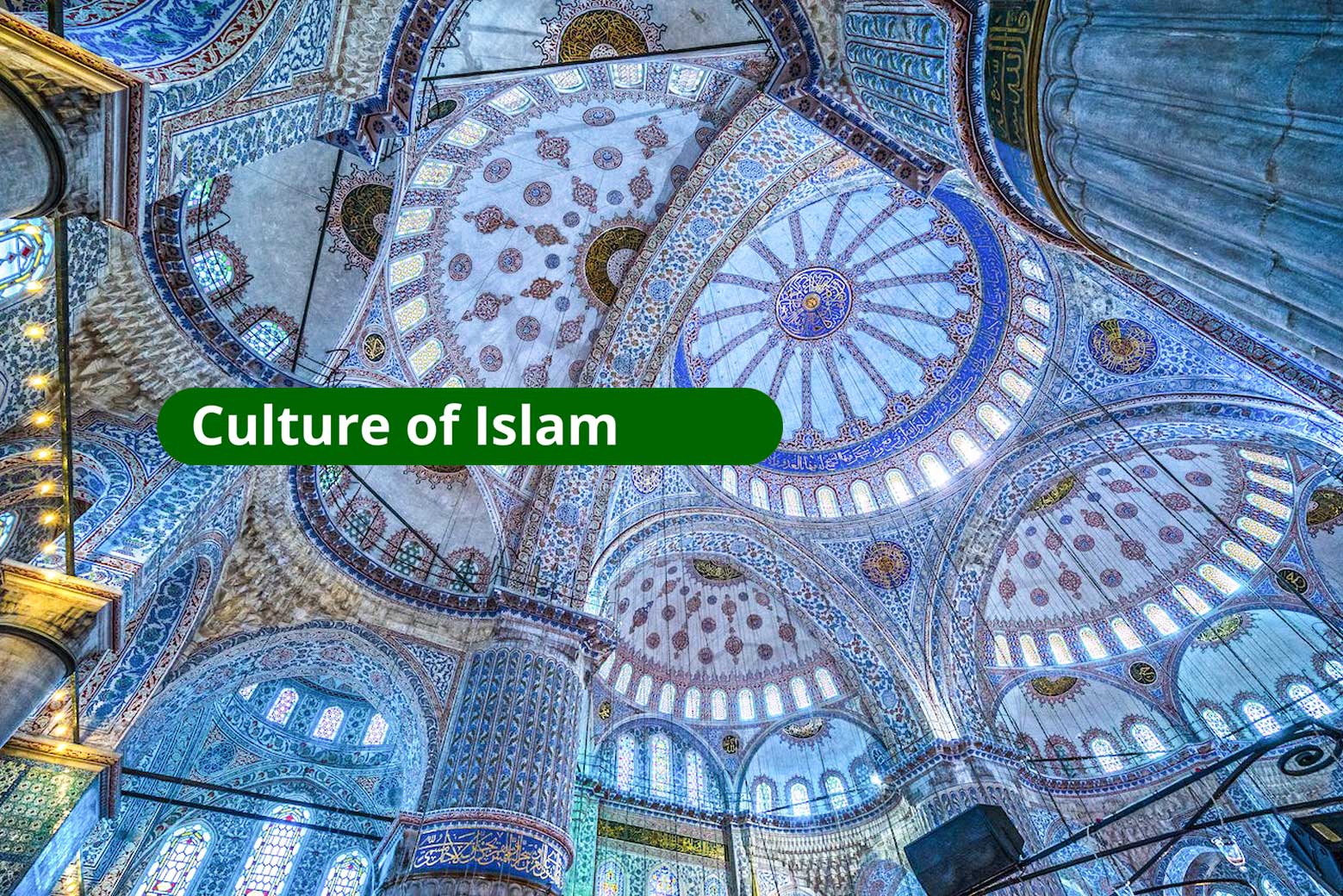 Adherents of Islam constitute the world's second largest religious group. According to Pew Research Centre, Islam has 1.8 billion adherents, making up about 23.2% of the world population.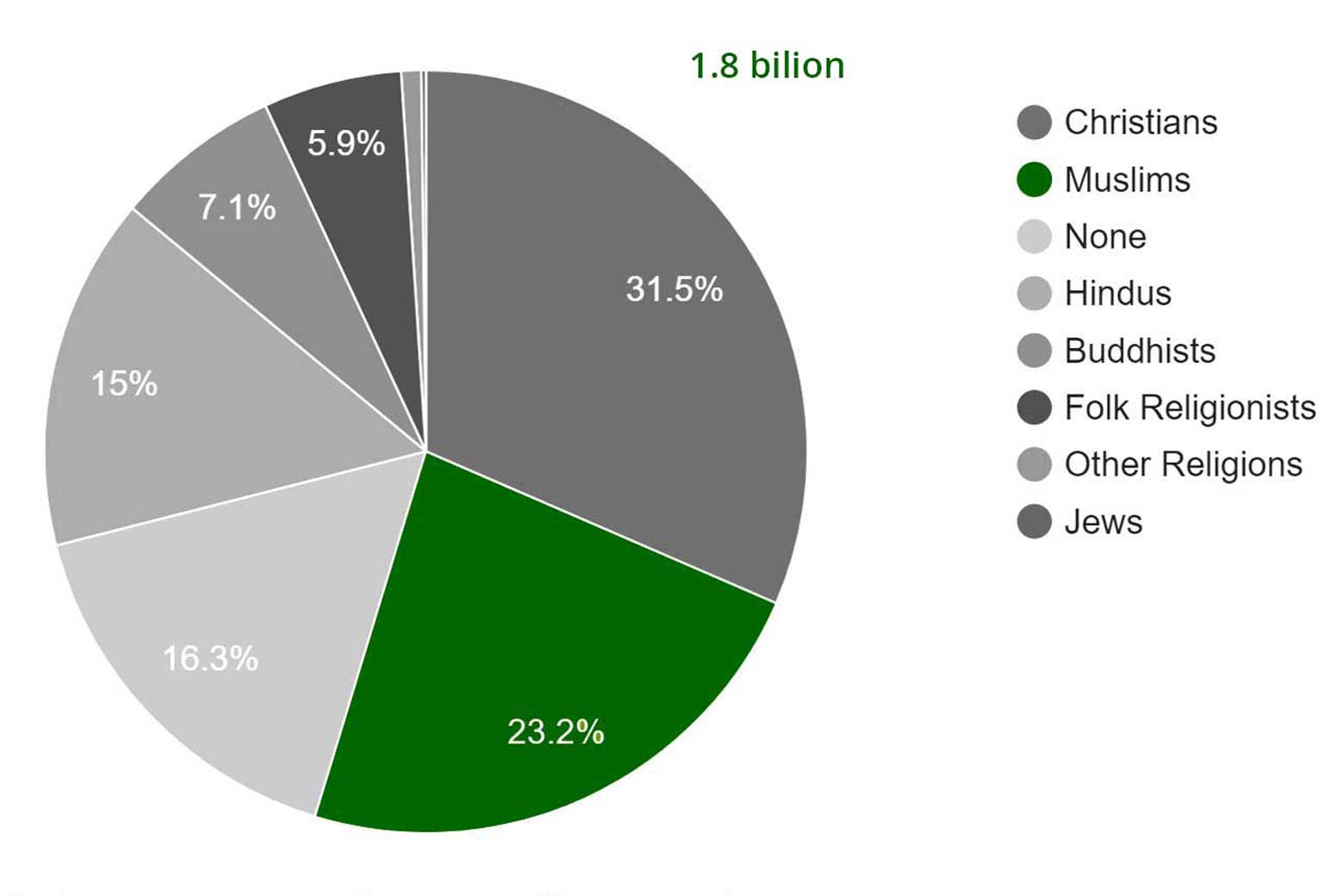 Symbol
The star and crescent
Is the best-known symbol used to represent Islam. The symbol is not Muslim in origin, it was a polytheistic icon adopted during the spread of Islam, and its use today is sometimes controversial in the Muslim world. The crescent and star are often said to be Islamic symbols, but historians say that they were the insignia of the Ottoman Empire, not of Islam as a whole.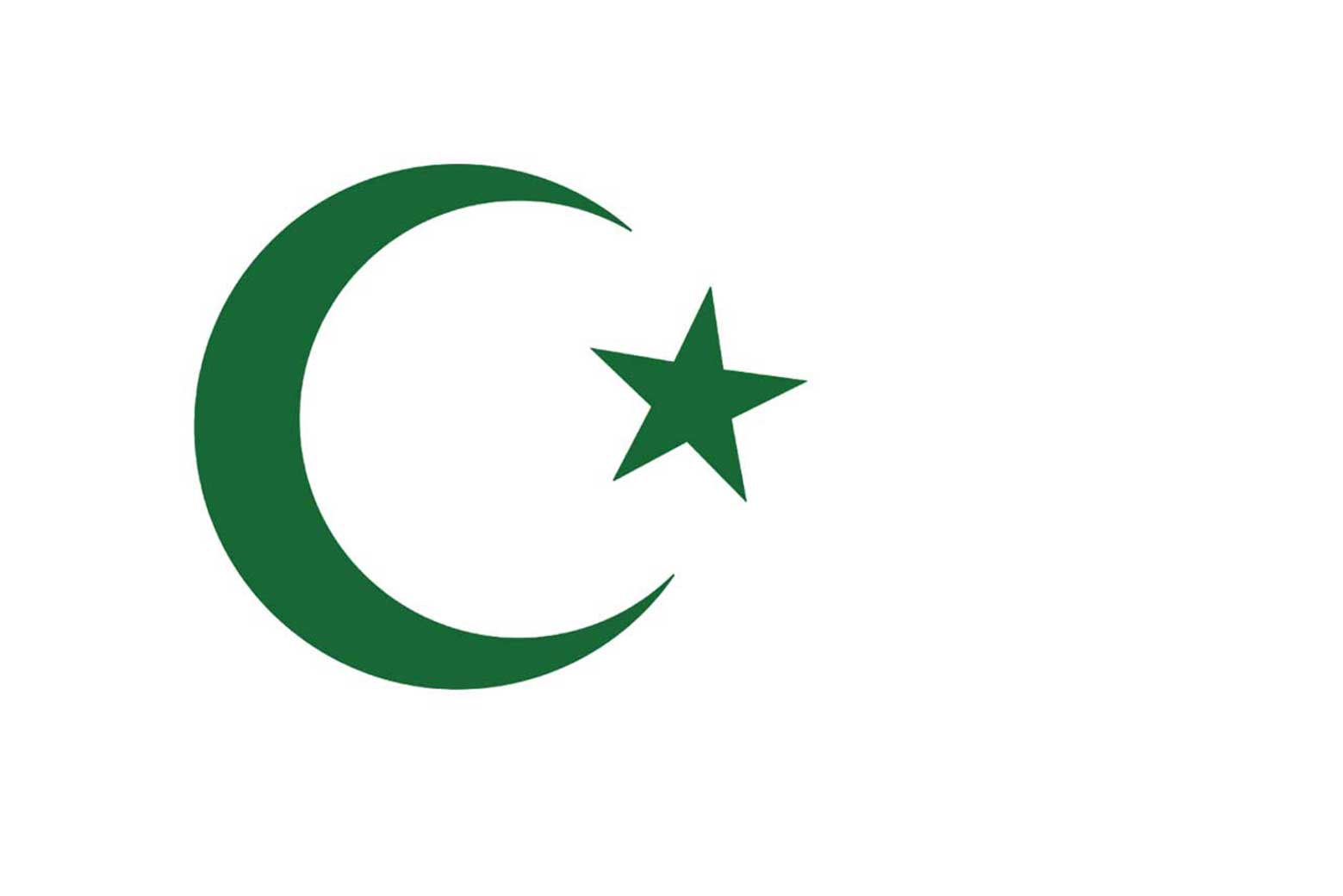 Brief History
Muslims believe that Islam is a faith that has always existed and that it was gradually revealed to humanity by a number of prophets, but the final and complete revelation of the faith was made through the Prophet Muhammad in the 7th century CE.
Muhammad was born in Mecca in Saudi Arabia in 570. He was a deeply spiritual man, and often spent time in meditation on Mount Hira.
The traditional story of the Qur'an tells how one night in 610 he was meditating in a cave on the mountain when he was visited by the angel Jibreel who ordered him to recite.
Once Jibreel mentioned the name of Allah, Muhammad began to recite words which he came to believe were the words of God.
During the rest of his life Muhammad continued to receive these revelations. The words were remembered and recorded, and form the text of the Holy Qu'ran, the Muslim scripture.
Believing that God had chosen him as his messenger Muhammad began to preach what God had revealed to him.
Muhammad's popularity was seen as threatening by the people in power in Mecca, and he took his followers on a journey from Mecca to Medina in 622.
This journey is called the Hijrah (migration) and the event was seen as so important for Islam that 622 is the year in which the Islamic calendar begins.
Within ten years Muhammad had gained so many followers that he was able to return and conquer Mecca.
From this time on he was generally accepted by the faithful as the true final Prophet of God.
Muhammad continued to lead his community both spiritually and in earthly matters until his death in 632.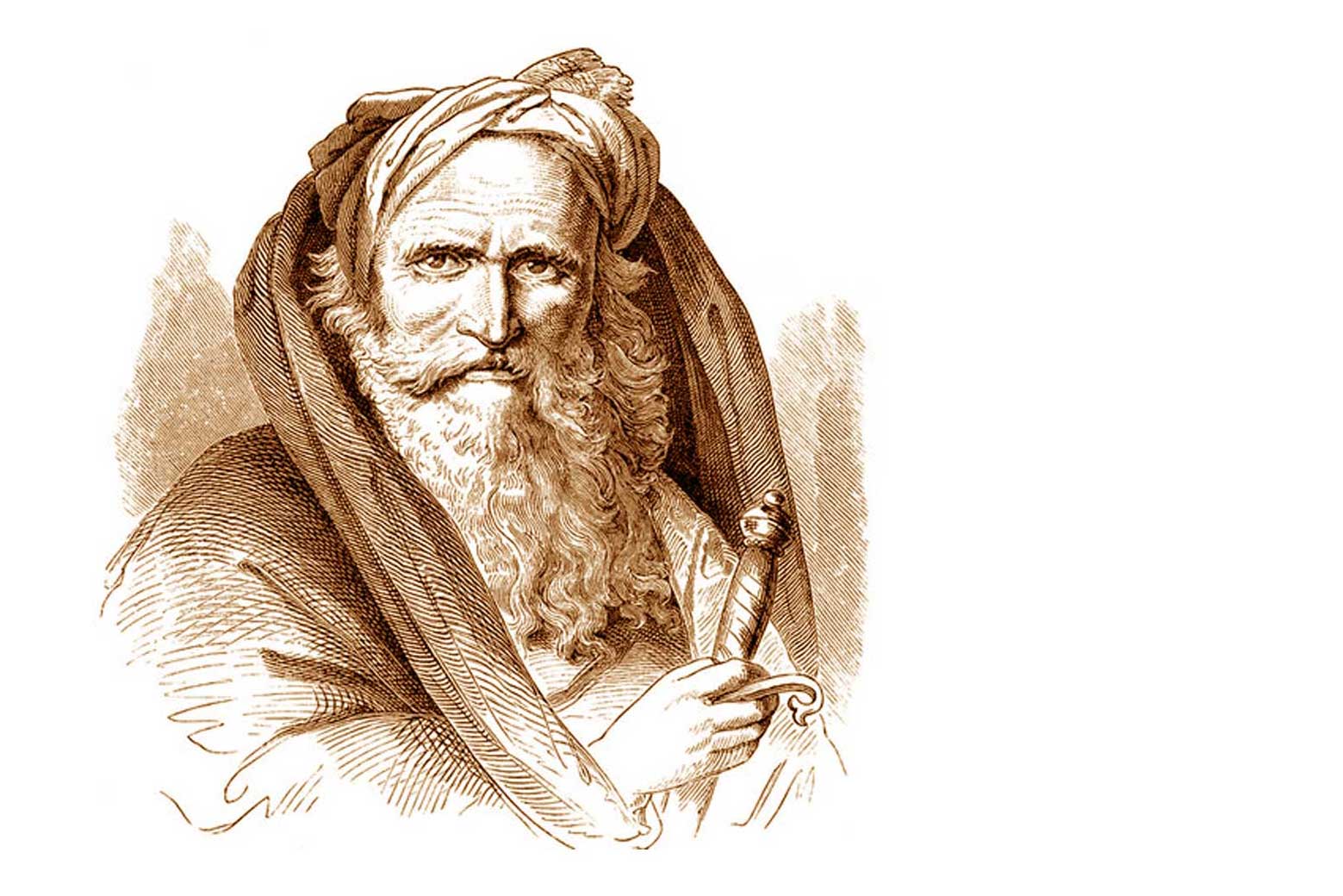 The Qur'an
is the holy book for Muslims, revealed in stages to the Prophet Muhammad over 23 years.
Qur'anic revelations are regarded by Muslims as the sacred word of God, intended to correct any errors in previous holy books such as the Old and New Testaments. The Qur'an was revealed to the Prophet Muhammad by God in Arabic.
Some Qur'anic fragments have been dated as far back as the eighth, and possibly even the seventh, century. The oldest existing copy of the full text is from the ninth century.
Although early variants of the Qur'an are known to have existed, Muslims believe that the text we have today was established shortly after the death of the Prophet by the Caliph Uthman.
There are 114 chapters in the Qur'an, which is written in the old Arabic dialect. All the chapters except one begin with the sentence Bismillahir rahmanir raheem, 'In the name of Allah the most merciful and the most kind'. This is the thought with which Muslims should start every action.
The longest chapter of the Qur'an is Surah Baqarah (The Cow) with 286 verses and the shortest is Surah Al-Kawther(abundance) which has 3 verses.
The arrangement of surahs does not correspond to the chronological order in which they were revealed.
The Qur'an is sometimes divided into 30 roughly equal parts, known as juz'. These divisions make it easier for Muslims to read the Qur'an during the course of a month and many will read one juz' each day, particularly during the month of Ramadan.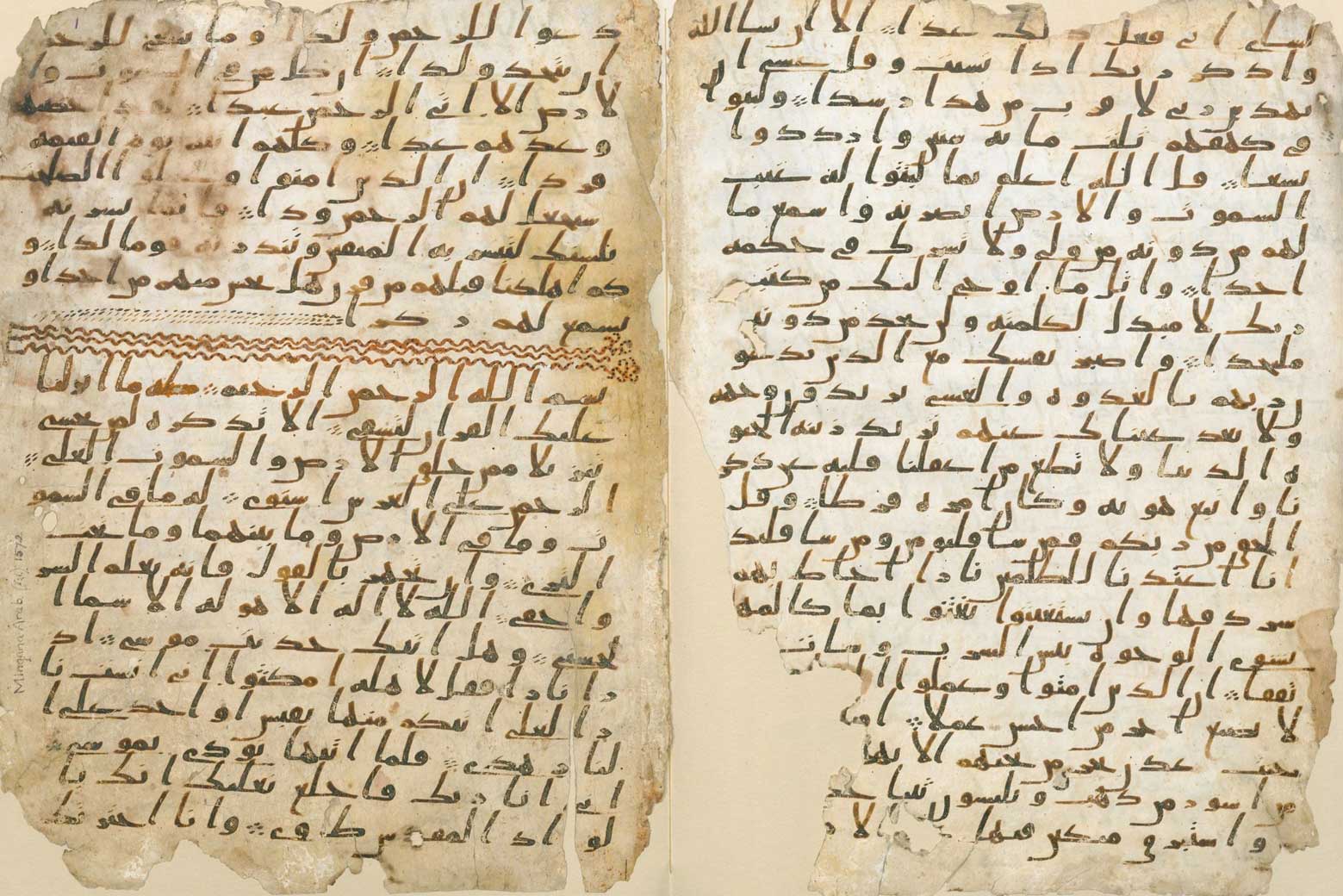 The Five Pillars of Islam
The most important Muslim practices. They are the five obligations that every Muslim must satisfy in order to live a good and responsible life according to Islam.
The Five Pillars consist of:
Shahadah: sincerely reciting the Muslim profession of faith
Salat: performing ritual prayers in the proper way five times each day
Sawm: fasting during the month of Ramadan
Zakat: paying alms (or charity) tax to benefit the poor and the needy
Hajj: pilgrimage to Mecca
Why are they important?
Carrying out these obligations provides the framework of a Muslim's life, and weaves their everyday activities and their beliefs into a single cloth of religious devotion.
No matter how sincerely a person may believe, Islam regards it as pointless to live life without putting that faith into action and practice.
Carrying out the Five Pillars demonstrates that the Muslim is putting their faith first, and not just trying to fit it in around their secular lives.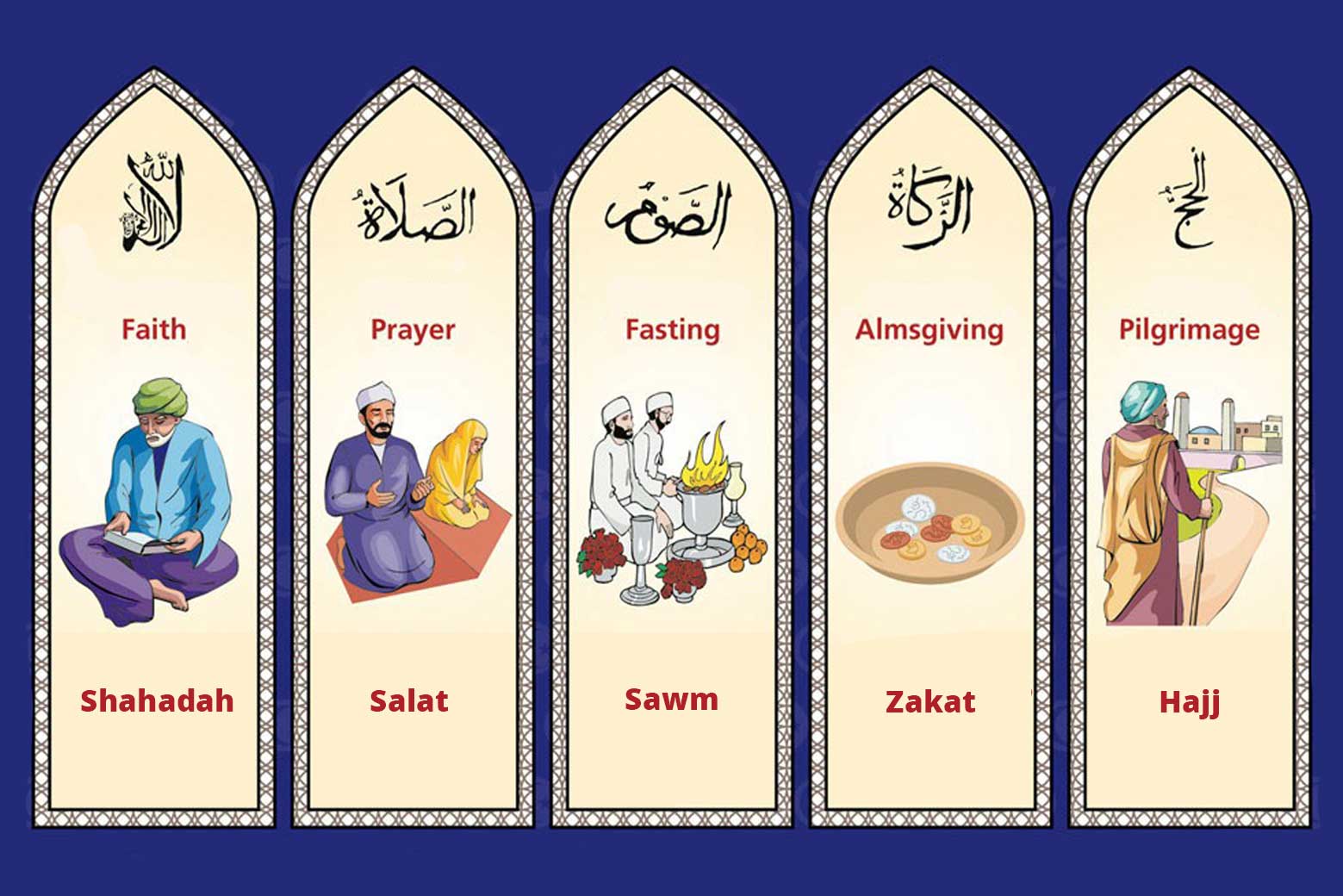 Salat
is the obligatory Muslim prayers, performed five times each day by Muslims. God ordered Muslims to pray at five set times of day:
Salat al-fajr: dawn, before sunrise
Salat al-zuhr: midday, after the sun passes its highest point on skies
Salat al-'asr: the late part of the afternoon
Salat al-maghrib: just after sunset
Salat al-'isha: between sunset and midnight
All Muslims try to do this. Muslim children as young as seven are encouraged to pray. Prayer sets the rhythm of the day. This prayer timetable gives Muslims the pattern of their day.
In Islamic countries, the public call to prayer from the mosques sets the rhythm of the day for the entire population, including non-Muslims.
The prayer ritual, which is over 1400 years old, is repeated five times a day by hundreds of millions of people all round the world.
Carrying it out is not only highly spiritual, but connects each Muslim to all others around the world, and to all those who have uttered the same words and made the same movements at different times in Islamic history.
The set prayers are not just phrases to be spoken. Prayer for a Muslim involves uniting mind, soul, and body in worship; so a Muslim carrying out these prayers will perform a whole series of set movements that go with the words of the prayer.
Muslims make sure that they are in the right frame of mind before they pray; they put aside all everyday cares and thoughts so that they can concentrate exclusively on God.
If a Muslim prays without the right attitude of mind, it as if they hadn't bothered to pray at all.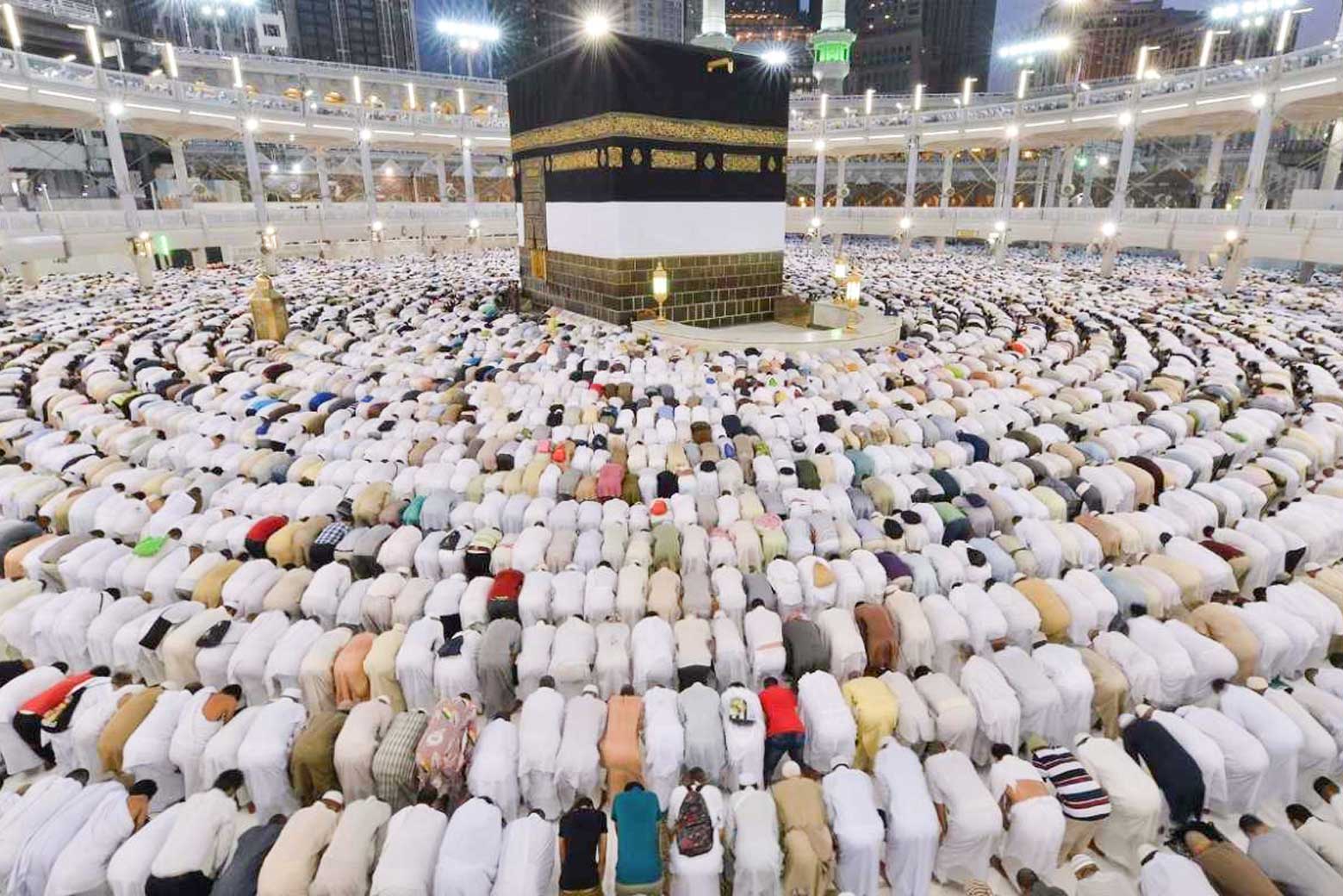 Three other rituals
Zakat
is the compulsory giving of a set proportion of one's wealth to charity. It is regarded as a type of worship and of self-purification. Zakat is the third Pillar of Islam.
Zakat does not refer to charitable gifts given out of kindness or generosity, but to the systematic giving of 2.5% of one's wealth each year to benefit the poor.
The benefits of Zakat, apart from helping the poor, are as follows:
Helping a person acknowledge that everything comes from God on loan and that we do not really own anything ourselves. And since we cannot take anything with us when we die we need not cling to it.
Acknowledging that whether we are rich or poor is God's choice. So we should help those he has chosen to make poor
Freeing oneself from the love of possessions and greed
Freeing oneself from the love of money
Freeing oneself from love of oneself
The 2.5% rate only applies to cash, gold and silver, and commercial items. There are other rates for farm and mining produce, and for animals.
Sawm
is fasting. Muslims are required to fast during Ramadan, the ninth month of the Islamic calendar. During the 29/30 days of Ramadan all adult Muslims must give up the following things during the hours of daylight:
Food or drink of any sort
Smoking, including passive smikig
Muslims who are physically or mentally unwell may be excused some of these, as may those who are under twelve years old, the very old, those who are pregnant, breast-feeding, menstruating, or travelling.
If an adult does not fast for the reasons above they should try to make up the fast at a later date, or make a donation to the poor instead.
Muslims do not only abstain from physical things during Ramadan. They are also expected to do their best to avoid evil thoughts and deeds as well.
There are many good reasons for this fast, including:
Becoming spiritually stronger
Appreciating God's gifts to us
Sharing the sufferings of the poor and developing sympathy for them
Realising the value of charity and generosity
Giving thanks for the Holy Qur'an, which was first revealed in the month of Ramada
Sharing fellowship with other Muslims
Hajj
Pilgrimige. Once a year, Muslims of every ethnic group, colour, social status, and culture gather together in Mecca and stand before the Kaaba praising Allah together.
It is a ritual that is designed to promote the bonds of Islamic brotherhood and sisterhood by showing that everyone is equal in the eyes of Allah
The Hajj makes Muslims feel real importance of life here on earth, and the afterlife, by stripping away all markers of social status, wealth, and pride. In the Hajj all are truly equal.
The Hajjis or pilgrims wear simple white clothes called Ihram. During the Hajj the Pilgrims perform acts of worship and they renew their sense of purpose in the world.
Mecca is a place that is holy to all Muslims. It is so holy that no non-Muslim is allowed to enter.
Hajj occurs in the month of Dhul Hijjah which is the twelfth month of the Islamic lunar calendar. It is the journey that every sane adult Muslim must undertake at least once in their lives if they can afford it and are physically able.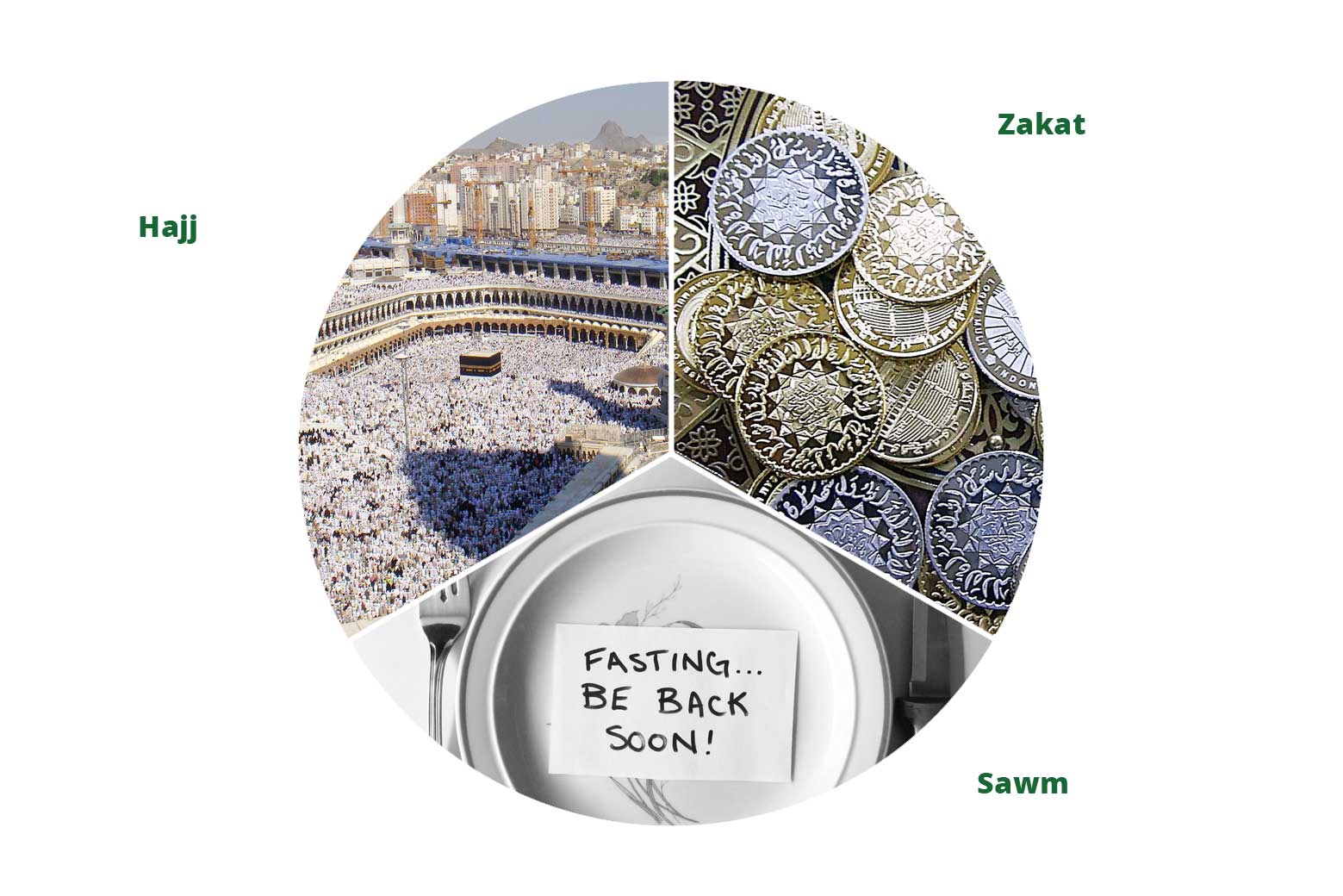 Holly days
Eid ul Adha
Animals are sacrificed and then distributed among family, friends and the poor.
This is a four-day public holiday in Muslim countries. The festival remembers the prophet Ibrahim's willingness to sacrifice his son when God ordered him to.
God appeared in a dream to Ibrahim and told him to sacrifice his son Isma'il. Ibrahim and Isma'il set off to Mina for the sacrifice. As they went, the devil attempted to persuade Ibrahim to disobey God and not to sacrifice his beloved son. But Ibrahim stayed true to God, and drove the devil away.
As Ibrahim prepared to kill his son God stopped him and gave him a sheep to sacrifice instead.
Ibrahim's complete obedience to the will of God is celebrated by Muslims each year.
Each Muslim, as they celebrate, reminds themselves of their own submission to God, and their own willingness to sacrifice anything to God's wishes.
During the festival Muslims who can afford to, sacrifice domestic animals, usually sheep, as a symbol of Ibraham's sacrifice. (British law insists that the animals must be killed in a proper slaughterhouse.)
The meat is distributed among family, friends and the poor, who each get a third share.
As with all festivals there are prayers, and also presents. 
Eid al Fitr
Muslims are not only celebrating the end of fasting, but thanking Allah for the help and strength that he gave them throughout the previous month to help them practise self-control.
The festival begins when the first sight of the new moon is seen in the sky.
Muslims in most countries rely on news of an official sighting, rather than looking at the sky themselves.
The celebratory atmosphere is increased by everyone wearing best or new clothes, and decorating their homes.
There are special services out of doors and in mosques, processions through the streets, and of course, a special celebratory meal – eaten during daytime, the first daytime meal Muslims will have had in a month.
Eid is also a time of forgiveness, and making amends.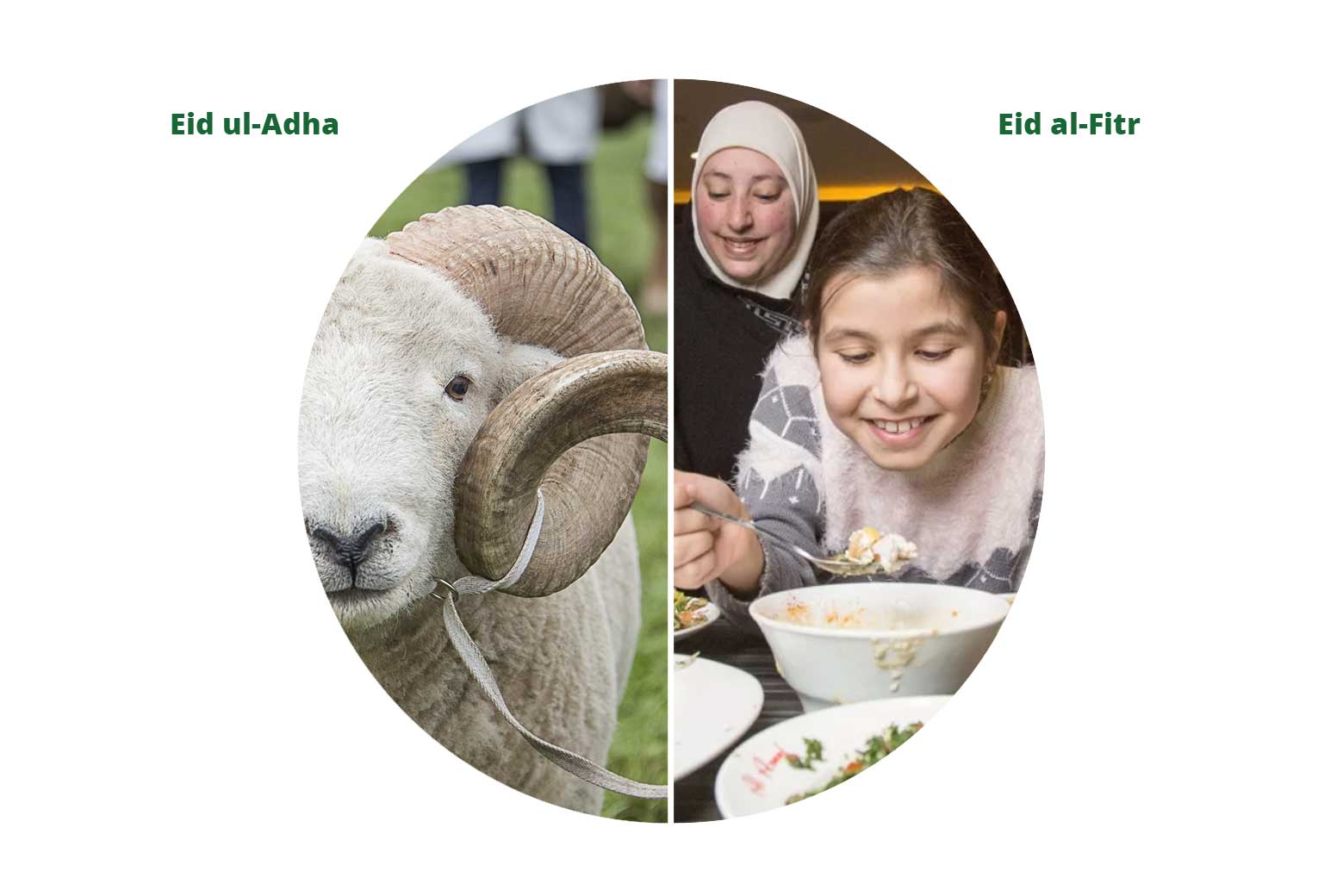 Sharia law
Comes from a combination of sources including the Qur'an. Sharia is a now a familiar term to Muslims and non-Muslims. It can often be heard in news stories about politics, crime, feminism, terrorism and civilisation.
Many people, including Muslims, misunderstand Sharia. It's often associated with the amputation of limbs, death by stoning, lashes and other medieval punishments. Because of this, it is sometimes thought of as draconian. Some people in the West view Sharia as archaic and unfair social ideas that are imposed upon people who live in Sharia-controlled countires.
Many Muslims, however, hold a different view. In the Islamic tradition Sharia is seen as something that nurtures humanity. They see the Sharia not in the light of something primitive but as something divinely revealed. In a society where social problems are endemic, Sharia frees humanity to realise its individual potential.
All aspects of a Muslim's life are governed by Sharia. Sharia law comes from a combination of sources including the Qur'an (the Muslim holy book), the Hadith (sayings and conduct of the prophet Muhammad) and fatwas (the rulings of Islamic scholars).
Jalaluddin Rumi
better known simply as Rumi, was perhaps the finest Persian poet of all time and a great influence on Muslim writing and culture. His poetry is still well known throughout the modern world, and he is one of the best selling poets in America.
Jalaluddin Rumi was born in 1207 in Balkh in present-day Afghanistan. Increasing Mongol incursions when he was around the age of eleven forced his family to leave Afghanistan, who travelled to Baghdad, Mecca, Damascus and finally settled in Konya in Turkey. Rumi lived here for most of his life.
Rumi was the son of a renowned Sufischolar, and it is more than likely that he was introduced to Sufism from a young age. Sufism is a branch of Islam primarily concerned with developing the spirituality, or more precisely the inner character, of a Muslim.
Both he and his father were firm believers in the revelations of the Qur'an, but criticized the mere outwardly legal and ritual practice that was being promoted at the time. In fact, much of his work is dedicated to waking people up, and encouraging them to experience life themselves, rather blindly following the scholars of the day.
Rumi spent his early years, like many Muslims of the time, learning and studying Arabic, law, Hadith (the body of sayings of the Prophet Muhammad), history, the Qur'an, theology, philosophy, mathematics and astronomy.
By the time of his father's death he had become an outstanding scholar in his own right, and took over his father's position as one of the highest scholars in the country at the young age of 24.
He spent his time teaching and giving lectures to the public, and until the age of about 35, lived a fairly non-descript life.
Then in 1244 Rumi met a travelling Sufi, called Shams (or Shamsi Tabrizi) and the whole course of his life changed.
Shams became fast friends with Rumi, in whom he recognised a kindred spirit. The two developed a very close friendship and it was at this point that Rumi became more and more secluded, shunning the society of those he previously would discuss and debate matters with.
His relationship with Shams caused great jealousy in his family and other students, and after a few years, Shams disappeared. Many believe he was murdered, but Rumi himself did not think so. He travelled for years looking for his friend, and it was this loss that led to the outpouring of his soul through his poetry.
He wrote numerous lines of love poetry, called ghazals, but though they outwardly seem to be about Shams, it is not difficult to see that they are in fact poems describing his overpowering love of God.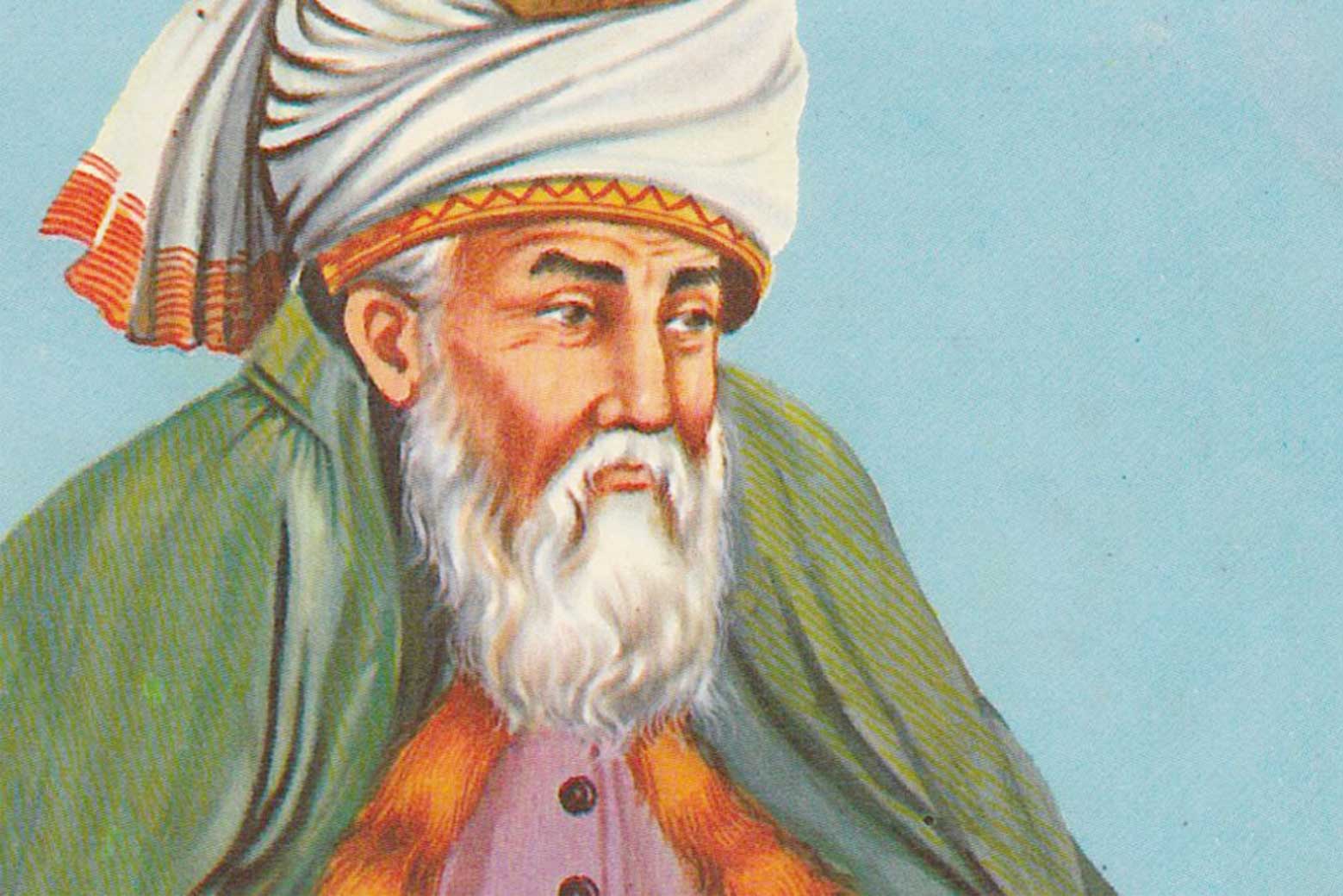 Life after death
Islam teaches that there is life after death, and this is known as Akhirah. In Islam, it is Allah who decides when a person dies and most Muslims believe that when they die, they will stay in their graves until Yawm al-din, the Day of Judgement.
On that day, they will be raised from their graves and brought before Allah and judged on how they lived their earthly lives. This belief is known as the resurrection of the body.
Those who have performed more good deeds than bad will enter Jannah, or Paradise. Jannah is a place described as a 'garden of everlasting bliss' and a 'home of peace'. In Jannah there will be no sickness, pain or sadness.
Those who have performed more bad deeds than good will enter Jahannam or Hell. This is a place of physical and spiritual suffering.
Muslims believe that Allah is forgiving, merciful and compassionate, so not all bad actions will be punished. Allah will forgive those who have repented for their sins and those who have done some good in their lives, for example showing kindness to others.
There are, however, some sins that many Muslims believe to be unforgivable. These include the sin of shirk which is practicing idolatry or polytheism. In example the deification or worship of anyone or anything besides the singular God. Literally, it means ascribing or the establishment of "partners" placed beside God. Those who practice shirk are termed mushrikun. 
Main beliefs
Belief in Allah as the one and only God
Belief in the Prophets… e.g. Adam, Ibrahim (Abraham), Musa (Moses), Dawud (David), Isa (Jesus). Muhammad (peace be upon him) is the final prophet.
Belief in the Day of Judgement…The day when the life of every human being will be assessed to decide whether they go to heaven or hell.
Belief in Predestination…That Allah has the knowledge of all that will happen. Muslims believe that this doesn't stop human beings making free choices.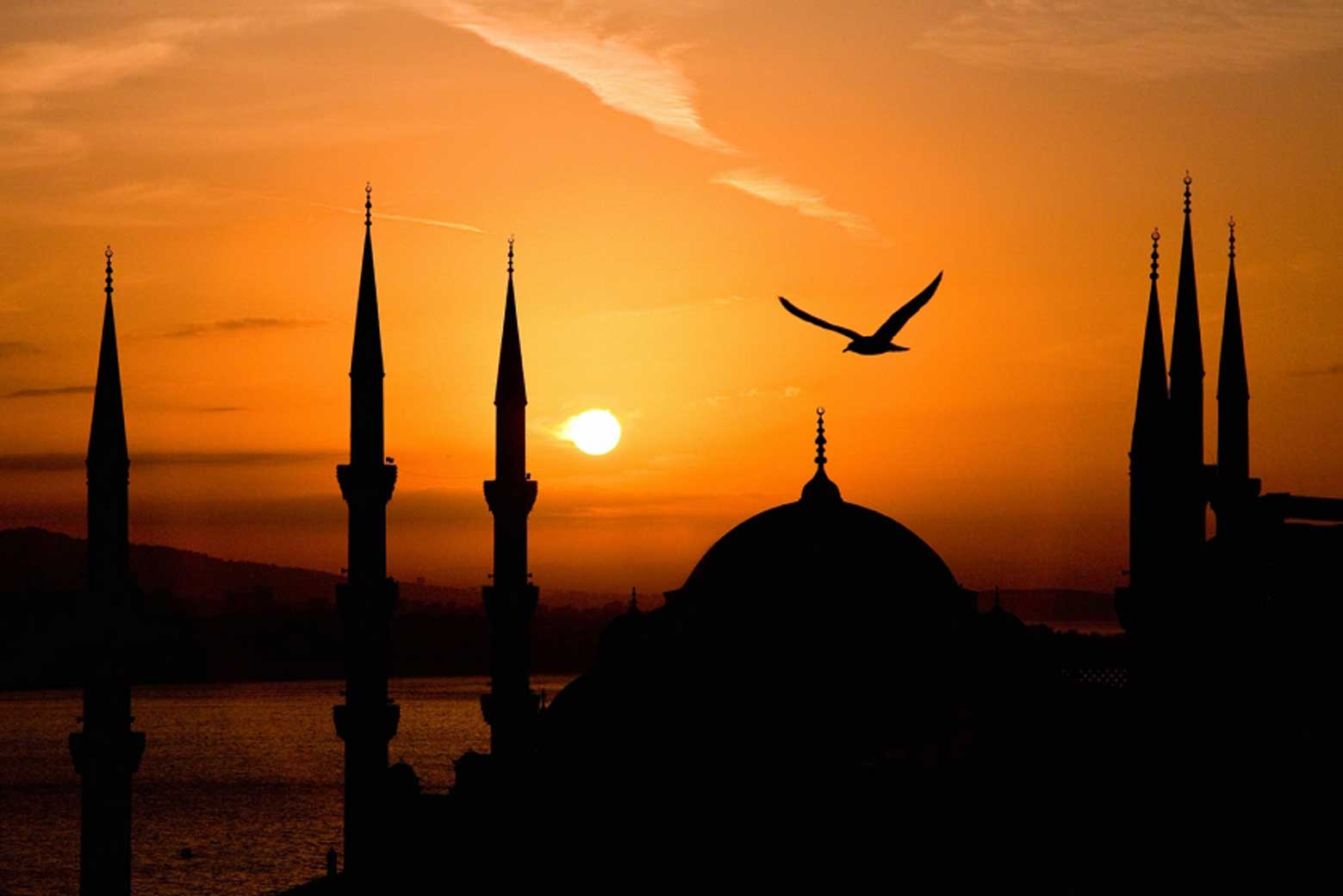 Branches of Islam
The Ahmadi movement
which has its origins in British-controlled northern India in the late 19th Century, identifies itself as a Muslim movement and follows the teachings of the Koran.
Sunni and Shi'ah
The historical split occurred 1400 years ago, following the death of Muhammad in Medina, in modern day Saudi Arabia.
Muslims who wanted to select his successor, or Caliph, by following the traditional Arab custom (Sunna) formed into a group known as Sunnis. Others insisted the Prophet had designated his cousin and son-in-law Ali as his legitimate heir. This group was called Shia Ali, or 'Party of Ali', from which comes the word Shia. 
The Khawarij
Kharijites, or the ash-Shurah are members of a school of thought, that appeared in the first century of Islam during the First Fitna, the crisis of leadership after the death of Muhammad. 
Sufism, or Tasawwuf
As it is known in the Muslim world, is Islamic mysticism.
Non-Muslims often mistake Sufism as a sect of Islam. Sufism is more accurately described as an aspect or dimension of Islam. Sufi orders (Tariqas) can be found in Sunni, Shia and other Islamic groups. Ibn Khaldun, the 14th century Arab historian, described Sufism as:
… dedication to worship, total dedication to Allah most High, disregard for the finery and ornament of the world, abstinence from the pleasure, wealth, and prestige sought by most men, and retiring from others to worship alone…
Although Sufis are relatively few in number they have shaped Islamic thought and history. Through the centuries Sufis contributed hugely to Islamic literature for example Rumi, Omar Khayyám and Al-Ghazali's influence extended beyond Muslim lands to be quoted by Western philosophers, writers and theologians. Sufis were influential in spreading Islam particularly to the furthest outposts of the Muslim world in Africa, India and the Far East.
Sufis are emphatic that Islamic knowledge should be learned from teachers and not exclusively from books. Tariqas can trace their teachers back through the generations to the Prophet himself. Modelling themselves on their teachers, students hope that they too will glean something of the Prophetic character.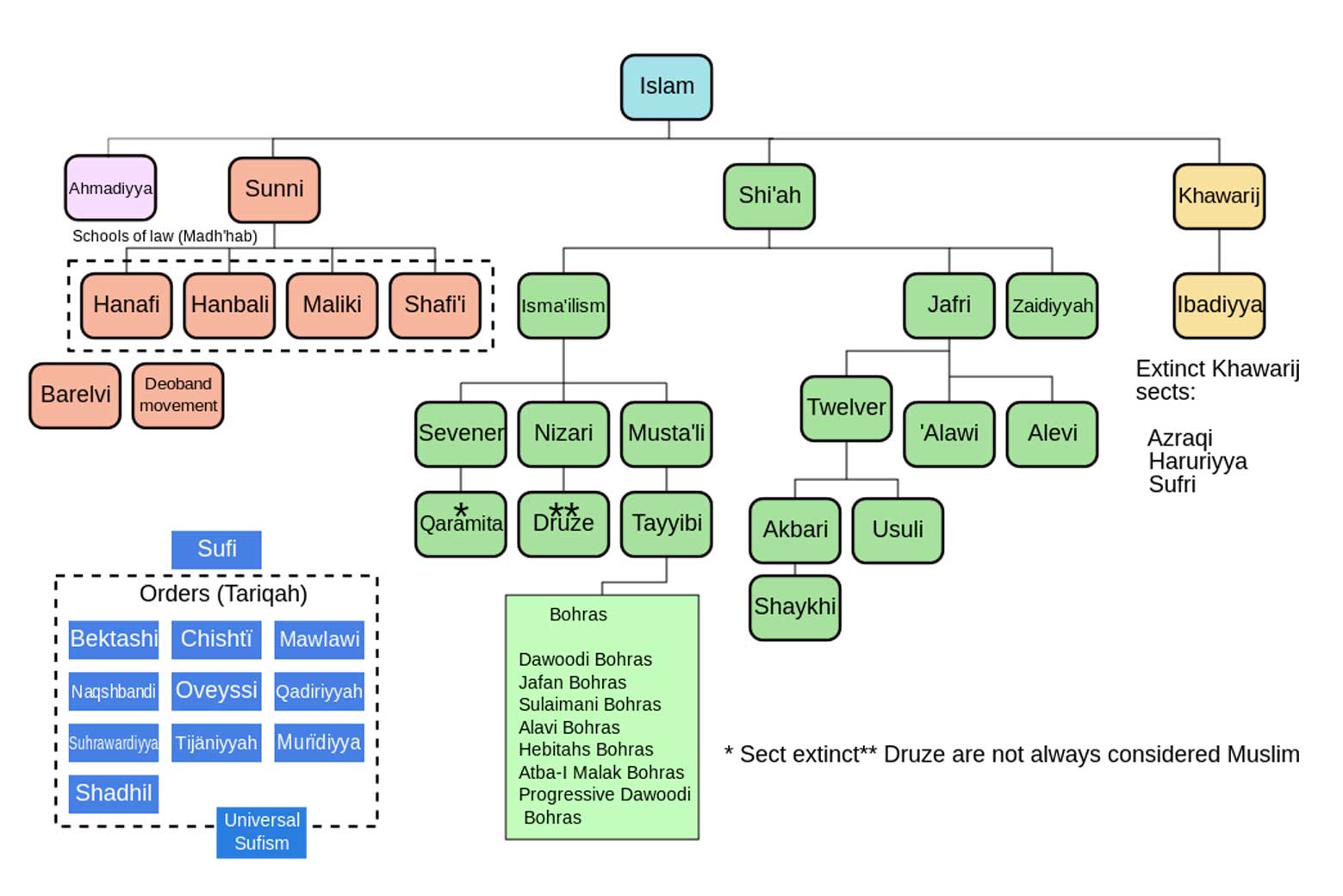 few photos from our film screening & discussion on Islam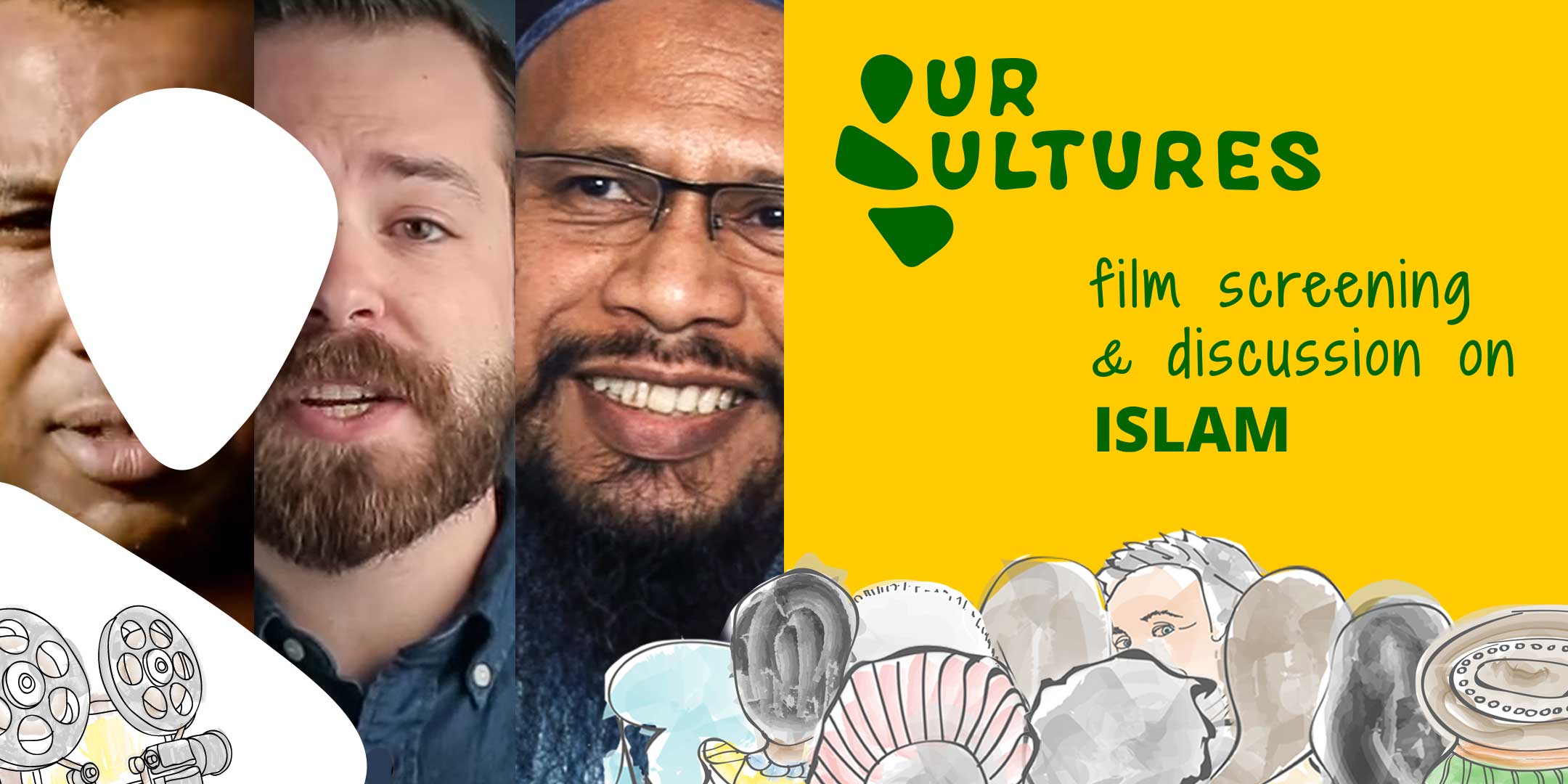 description of the past event
​Hi,
Join us and the Our Cultures for a film screening & discussion on ISLAM with our dear guest Noah Nazir who is one of the Sufi leaders bonding the community together.
Noah is following the Sufi path for more than 35 years. In the past he was also involved in different kind of yoga and meditation practices now earning his living as an acupuncturist at the Retford Chiropractic Wellness Centre where he works since 2005 as a firm favourite one.
He and some members of the Sheffield Sufi community will stay with us also for the discussion after the screening.
We are going to be watching three short documentaries about Islam and Sufism.
One of them will introduce us into the life of the prophet Muhammad and to the origins of Islam. The second one will be a short introduction to Sufism and the last one will bring us closer to a Sufi community living in rural Spain.
______________________________________
6th November (Tue) 18:50
The Welcome Centre
______________________________________
entrance on Nottingham St opposite Pilgrim St
S3 9AW
The Our Cultures is screening films and documentaries on the first Tuesday of every month except summer and winter holidays. It's always good to check updates on our Facebook page or by subscribing to our newsletter.
To find out more also experience a cosy evening with us and a cuppa, join us for the screening at the Welcome Centre.
The event is entirely FREE of charge.
There is no money involved (directly) at all. No grants, no funds only people's will to do so.
MANY THANKS FOR YOUR SUPPORT AND SPREADING THE WORD.
Feel free to call your family, friends and colleagues. Even bring a snack with you if you like. We'll brew a cup of a hot drink for you anyway.
See you there,
(entrance on Nottingham St opposite Pilgrim St S3 9AW)
Jozef
Our Cultures