Buddhism encompasses a variety of traditions, beliefs and spiritual practices largely based on original teachings attributed to the Buddha and resulting interpreted philosophies.
Buddhism is the world's fourth-largest religion with over 520 million followers, or over 7.1% of the global population, known as Buddhists according to Pew Research Centre.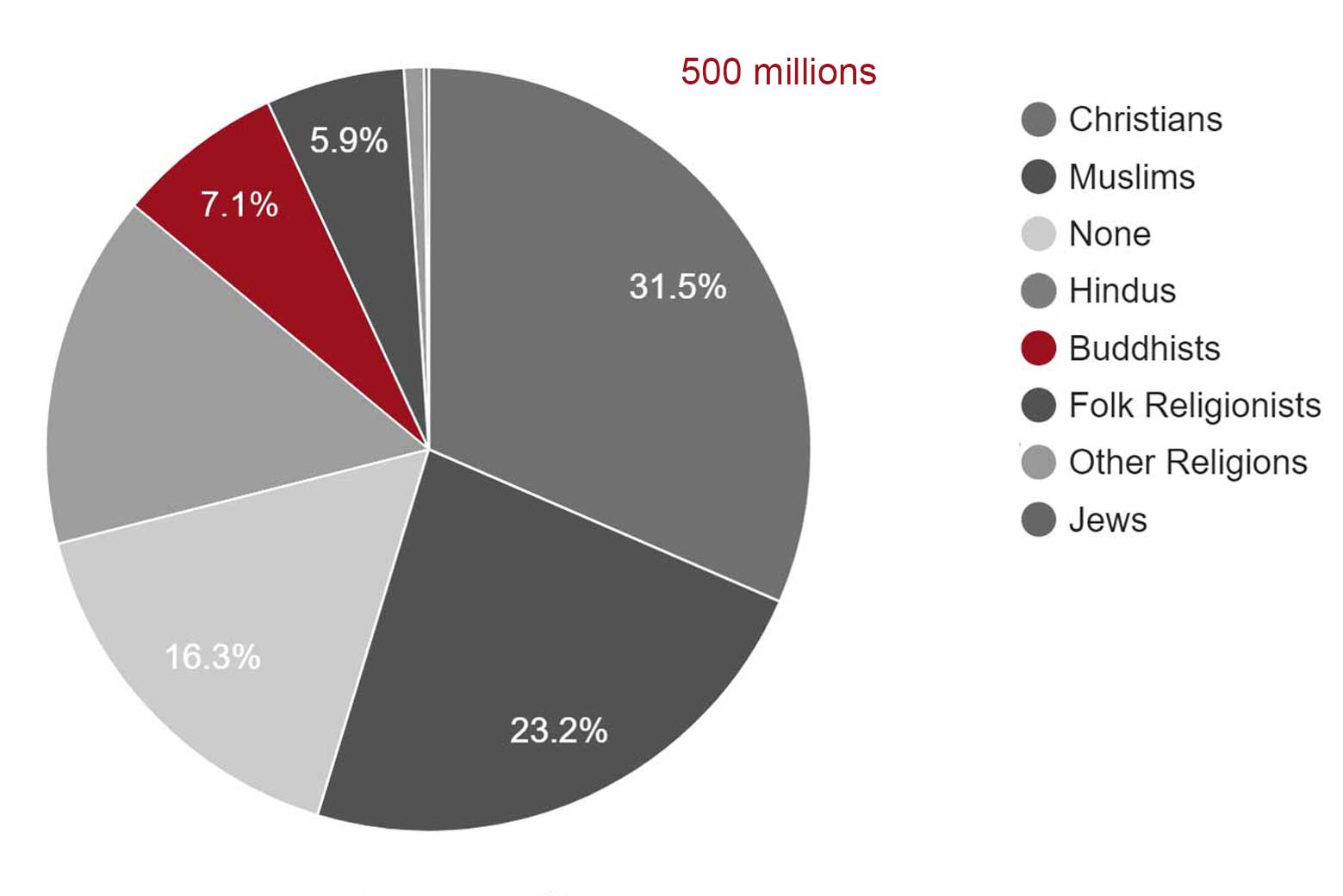 Symbol
The dharma wheel, or dharmachakra in Sanskrit, is one of the oldest symbols of Buddhism. Around the globe, it is used to represent Buddhism.
A traditional dharma wheel is a chariot wheel with varying numbers of spokes. It can be in any color, although it is most often gold. At the center sometimes there are three shapes swirling together, although sometimes at the center is a yin-yang symbol, or another wheel, or an empty circle.
The circle, the round shape of the wheel, represents the perfection of the dharma, the Buddha's teaching. The rim of the wheel represents meditative concentration and mindfulness, which hold practice together. The hub represents moral discipline. The three swirls often seen on the hub are sometimes said to represent the Three Treasures or Three Jewels–Buddha, dharma, sangha. They may also represent joy. The spokes signify different things, depending on their number.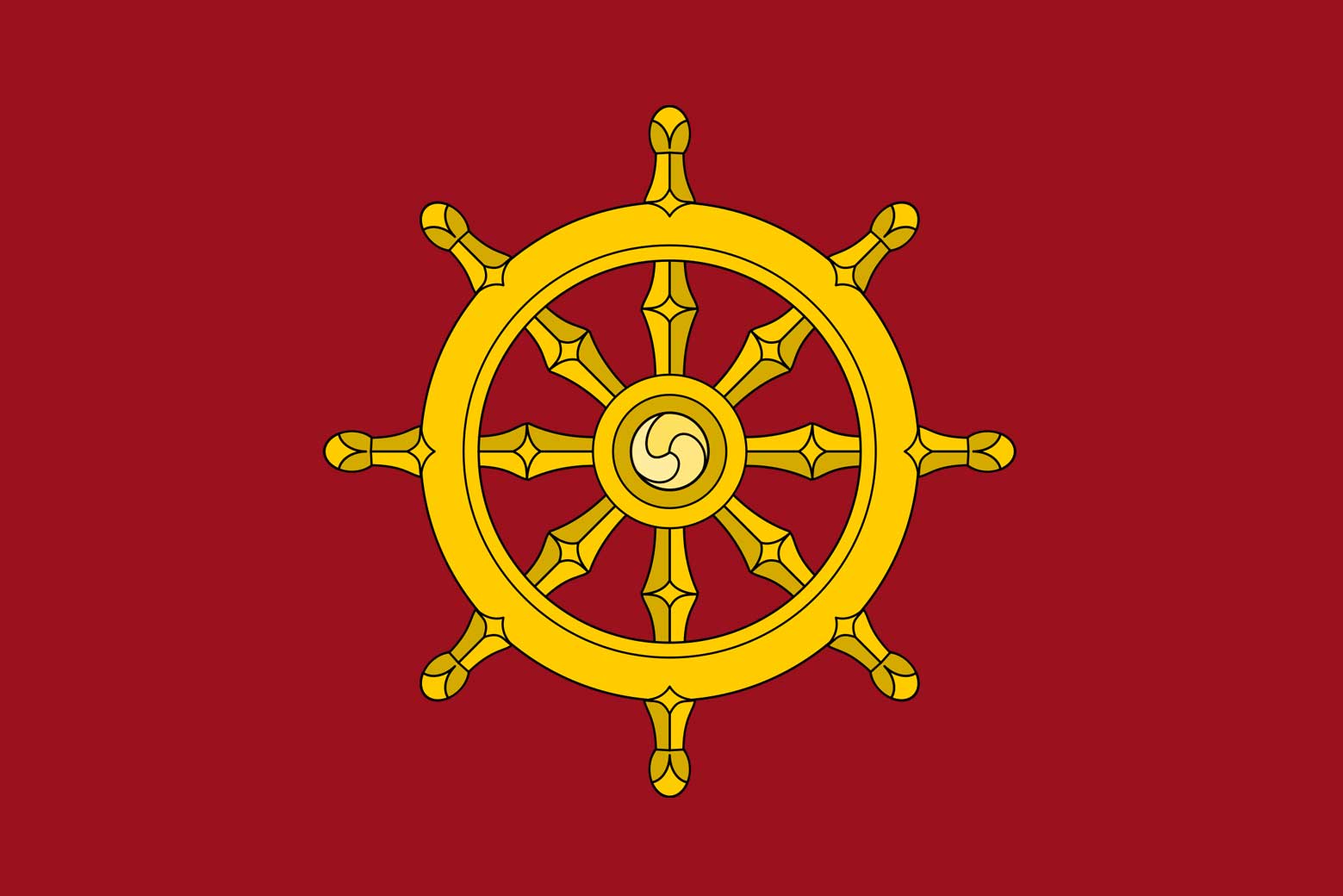 Brief History
Buddhism is one man's spiritual journey to enlightenment, and of the teachings and ways of living that developed from it. Siddhartha Gautama, the Buddha, was born into a royal family in present-day Nepal over 2500 years ago. He lived a life of privilege and luxury until one day he left the royal enclosure and encountered for the first time, an old man, a sick man, and a corpse. Disturbed by this he became a monk before adopting the harsh poverty of Indian asceticism. Neither path satisfied him and he decided to pursue the 'Middle Way' – a life without luxury but also without poverty. Buddhists believe that one day, seated beneath the Bodhi tree (the tree of awakening), Siddhartha became deeply absorbed in meditation and reflected on his experience of life until he became enlightened.
By finding the path to enlightenment, Siddhartha was led from the pain of suffering and rebirth towards the path of enlightenment and became known as the Buddha or 'awakened one'.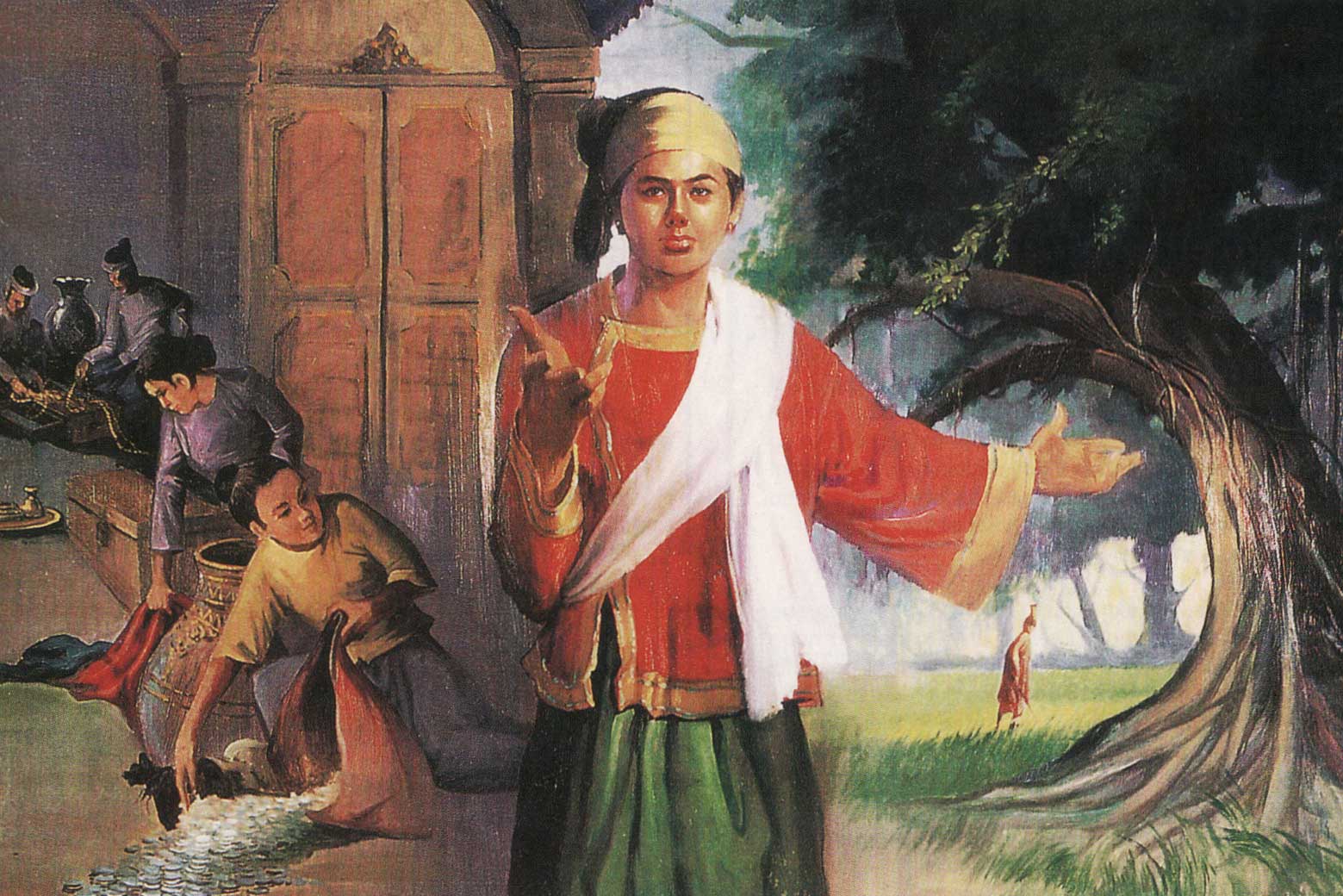 Schools of Buddhism
There are numerous different schools or sects of Buddhism. The two largest are Theravada Buddhism, which is most popular in Sri Lanka, Cambodia, Thailand, Laos and Burma (Myanmar), and Mahayana Buddhism, which is strongest in Tibet, China, Taiwan, Japan, Korea, and Mongolia.
Theravada and Mahayana are both rooted in the basic teachings of the historical Buddha, and both emphasise the individual search for liberation from the cycle of samsara (birth, death, rebirth…). The methods or practices for doing that, however, can be very different.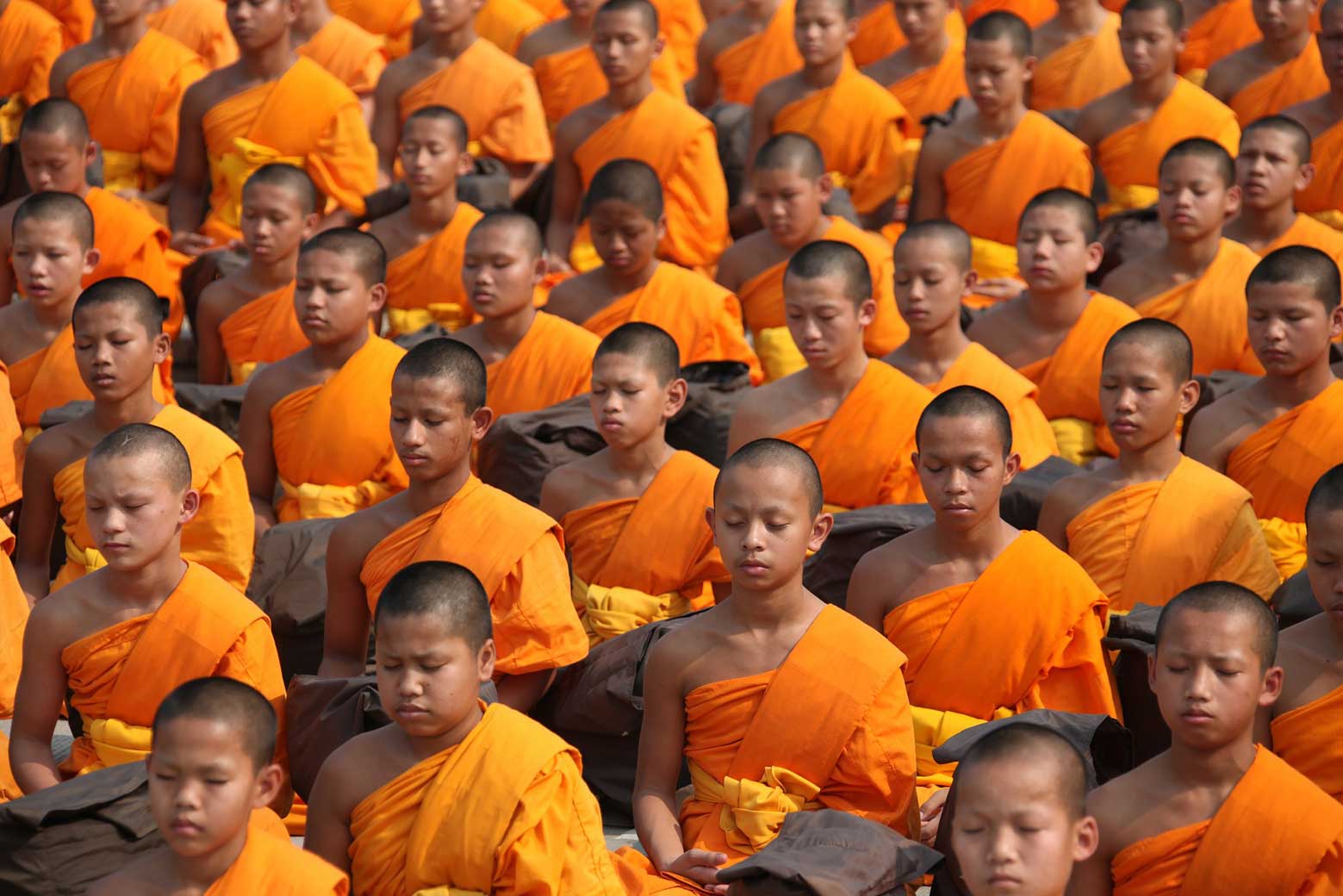 Theravada Buddhism
The name means 'the doctrine of the elders' – the elders being the senior Buddhist monks.
This school of Buddhism believes that it has remained closest to the original teachings of the Buddha. However, it does not over-emphasise the status of these teachings in a fundamentalist way – they are seen as tools to help people understand the truth, and not as having merit of their own.
The majority of Buddhist sects do not seek to proselytise (preach and convert), with the notable exception of Nichiren Buddhism.
All schools of Buddhism seek to aid followers on a path of enlightenment.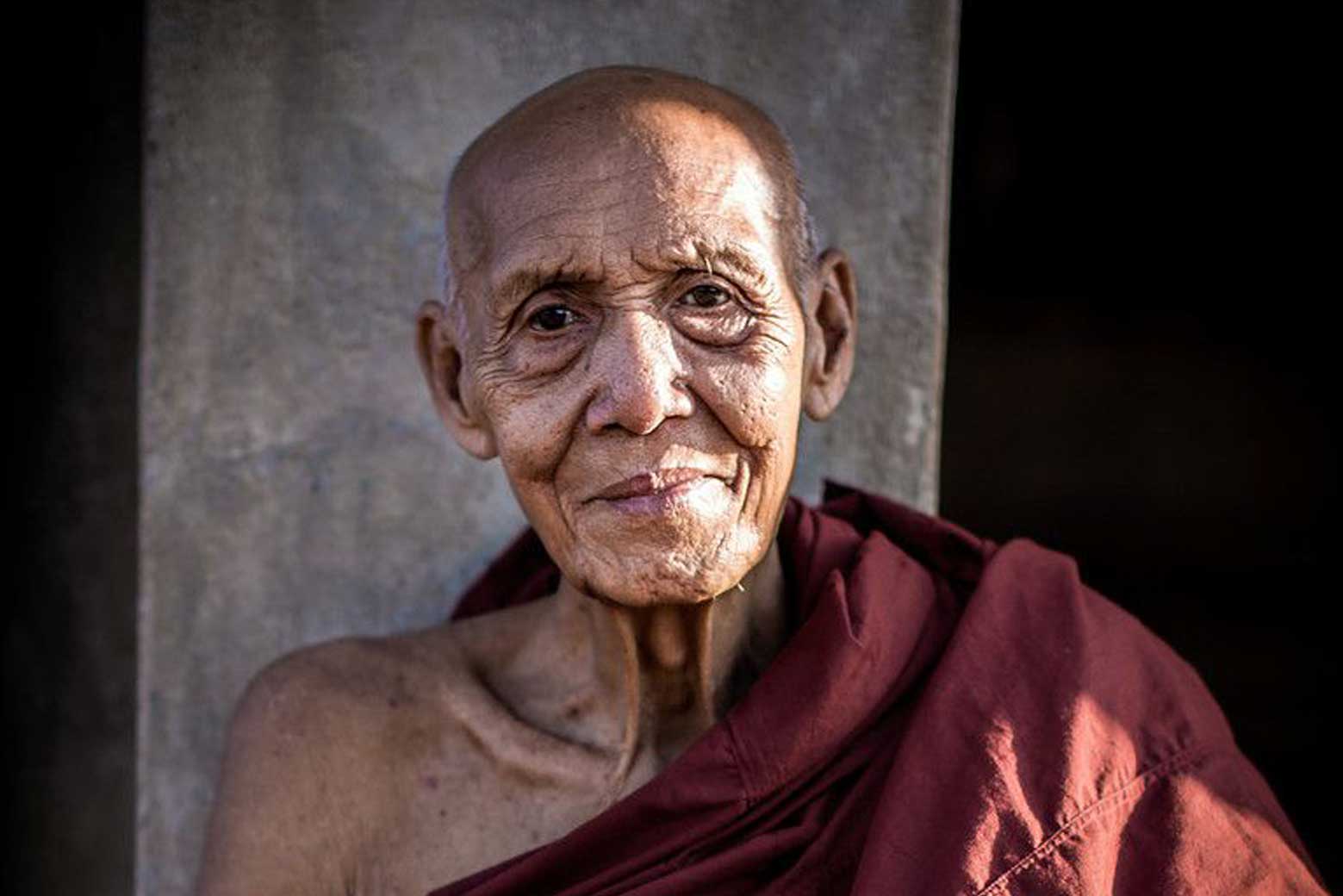 Mahayana Buddhism
is not a single group but a collection of Buddhist traditions: Zen Buddhism, Pure Land Buddhism, and Tibetan Buddhism are all forms of Mahayana Buddhism.
Mahayana talks a great deal about the bodhisattva (the 'enlightenment being') as being the ideal way for a Buddhist to live.
Anyone can embark on the bodhisattva path. This is a way of life, a way of selflessness; it is a deep wish for all beings, no matter who they are, to be liberated from suffering.
Mahayana Buddhism says that there are three aspects of Buddhahood, which it describes by regarding Buddha as having three bodies: (similarity with Christianity the holy trinity?)
Buddha is transcendent – he is the same thing as the ultimate truth.
Buddha's body of bliss, or enjoyment body.
Buddha's earthly body – just like any other human being's body.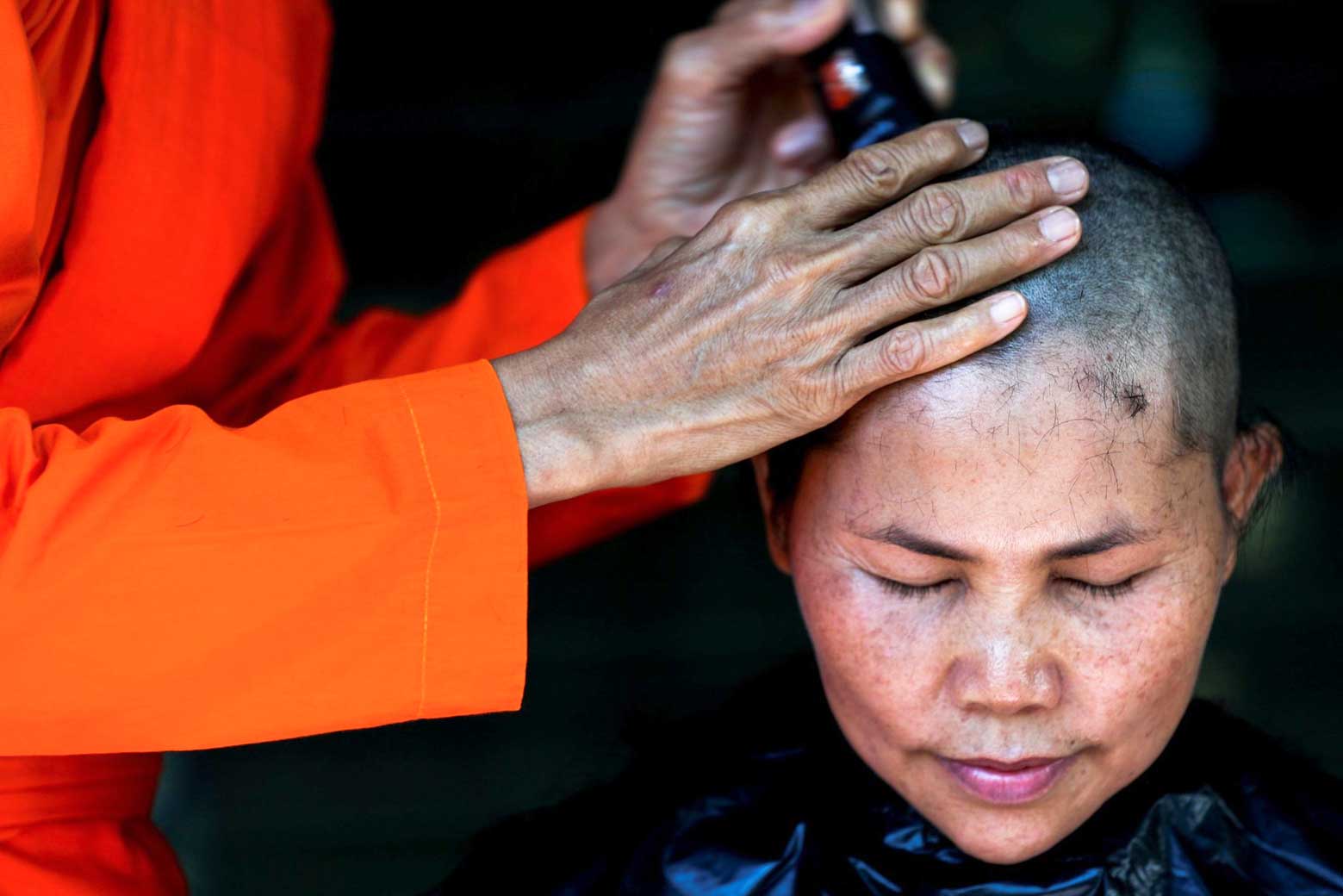 Tripitaka
The Holy Buddhist scriptures.
As for Christians is Bible, Muslim Koran or Hindus Vedas Tripitaka is for Buddhists.
The Tripitaka is considered to be a record of the words of the Buddha. The Pali canon was written down in the first century CE. The Tripitaka contains the following sections:
Vinaya Pitaka – this contains the rules telling monks and nuns how to behave with each other, and within society. A summary of the rules is chanted on a regular basis to remind them of their responsibilities.
The Sutta Pitaka – contains the Buddha's teachings recorded mainly as sermons delivered in historical settings. It includes the Dhammapada. The Dhammapada means 'the path or verses of truth' and is the best known of all the Buddhist scriptures in the West. It also includes the Metta Sutta, a scripture in which the Buddha describes how an individual can live a life of loving-kindness.
Abhidhamma Pitaka – this section is the most complex and it contains teaching about the nature of life and the reasons for being.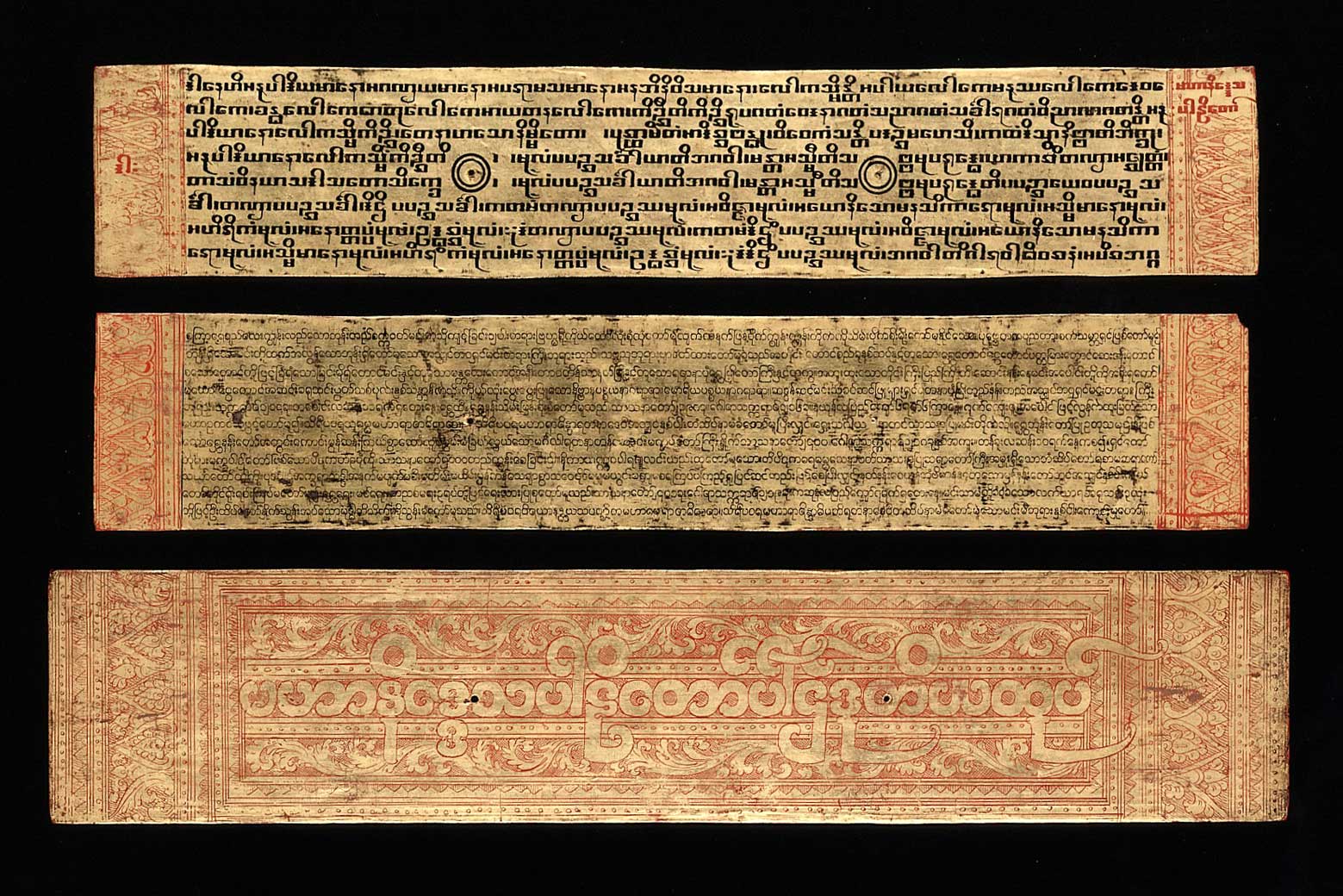 Buddhist worship
Buddhists can worship both at home or at a temple. It is not considered essential to go to a temple to worship with others. Buddhist temples come in many shapes. Perhaps the best known are the pagodas of China and Japan.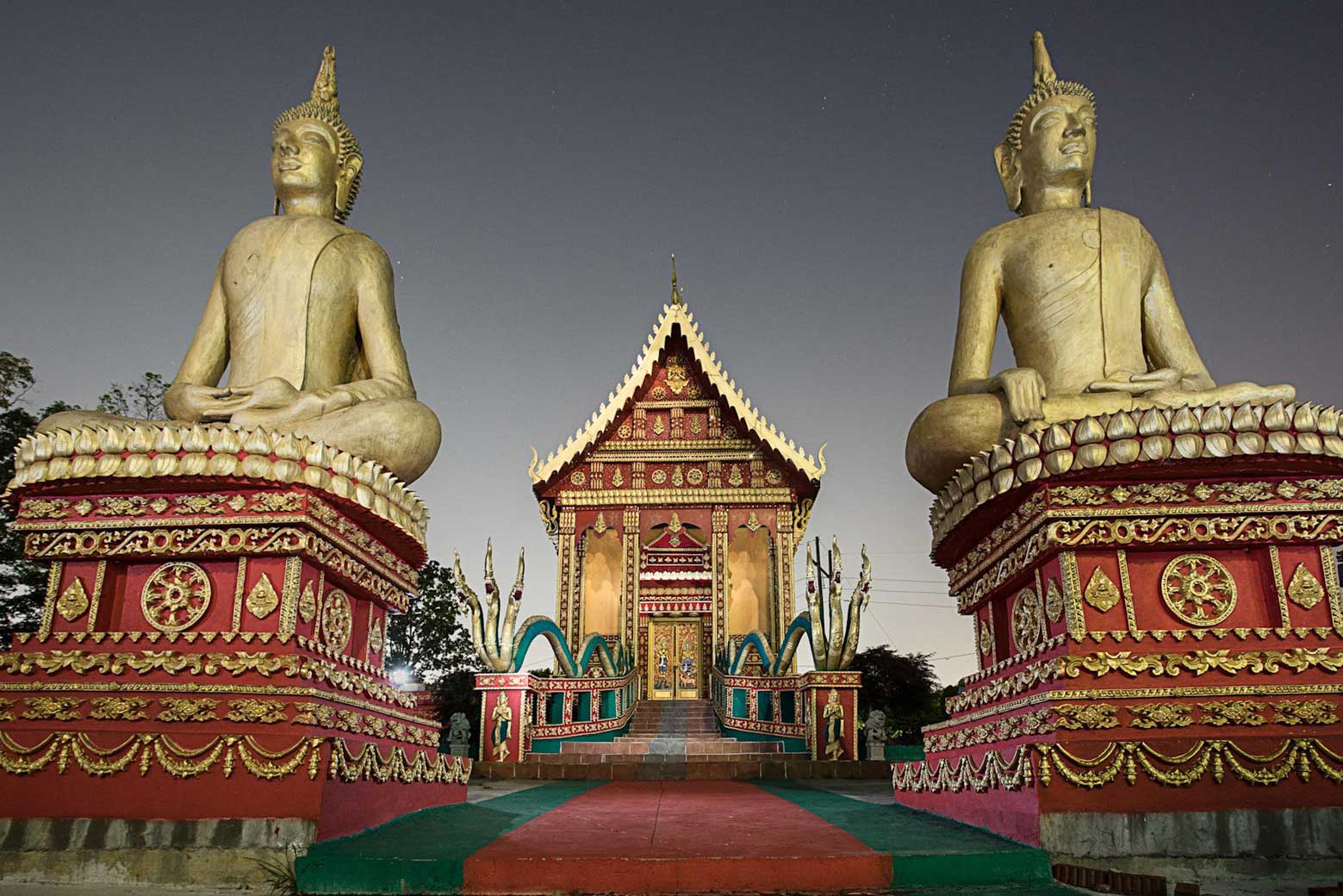 At home. Buddhists will often set aside a room or a part of a room as a shrine. There will be a statue of Buddha, candles, and an incense burner.
Another typical Buddhist building is the Stupa, which is a stone structure built over what are thought to be relics of the Buddha, or over copies of the Buddha's teachings.
Buddhist temples are designed to symbolise the five elements:
Earth, symbolised by the square base
Wisdom, symbolised by the pinnacle at the top
All Buddhist temples contain an image or a statue of Buddha.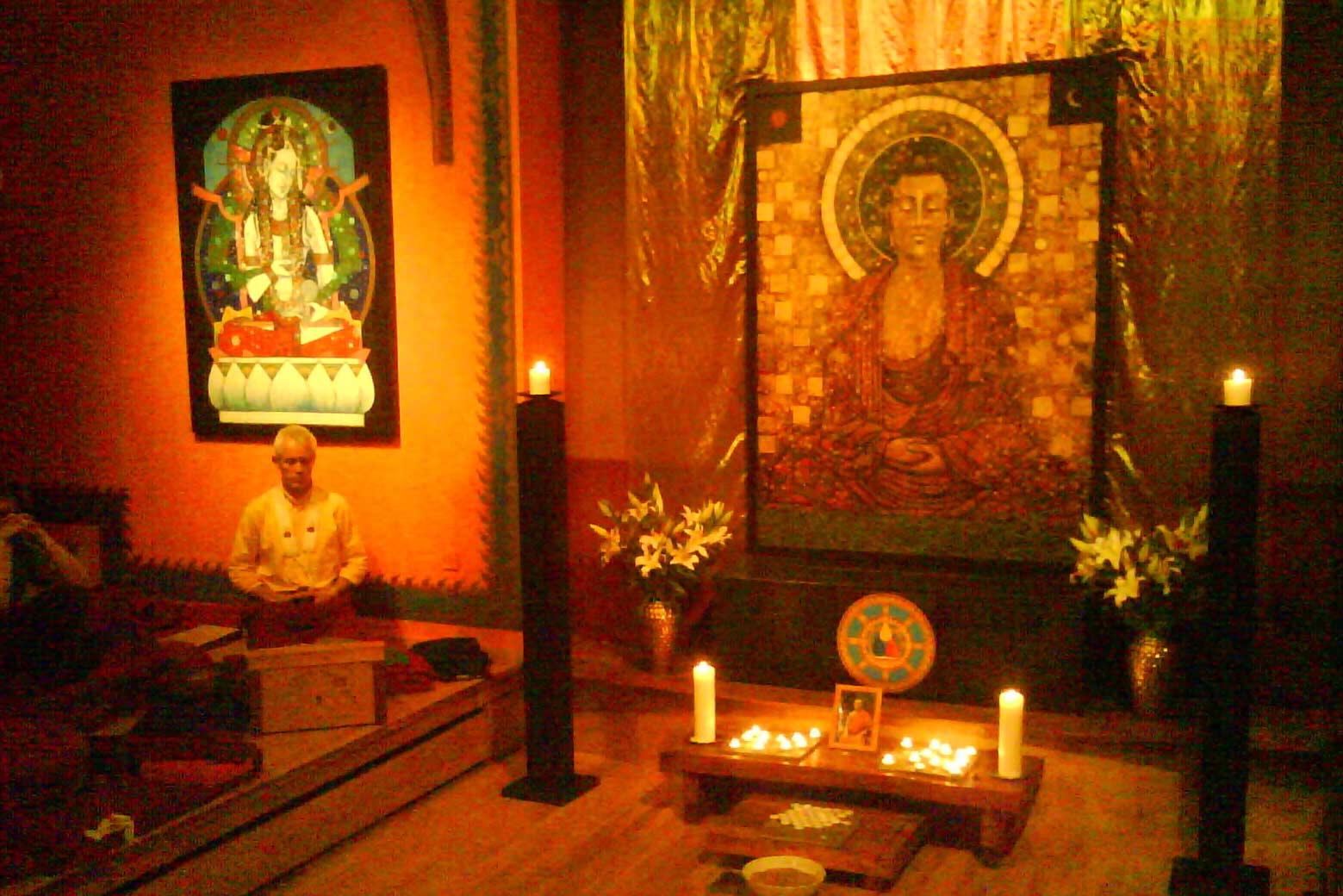 Mantras and prayer
A mantra is a word, a syllable, a phrase or a short prayer that is spoken once or repeated over and over again (either aloud or in a person's head) and that is thought to have a profound spiritual effect on the person.
A very well known mantra is the mantra of Avalokiteshvara: om mani padme hum. This is sometimes said to mean "Behold! The jewel in the lotus!", but this translation isn't much help – the phrase isn't really translatable because of the richness of meaning and symbolism it contains.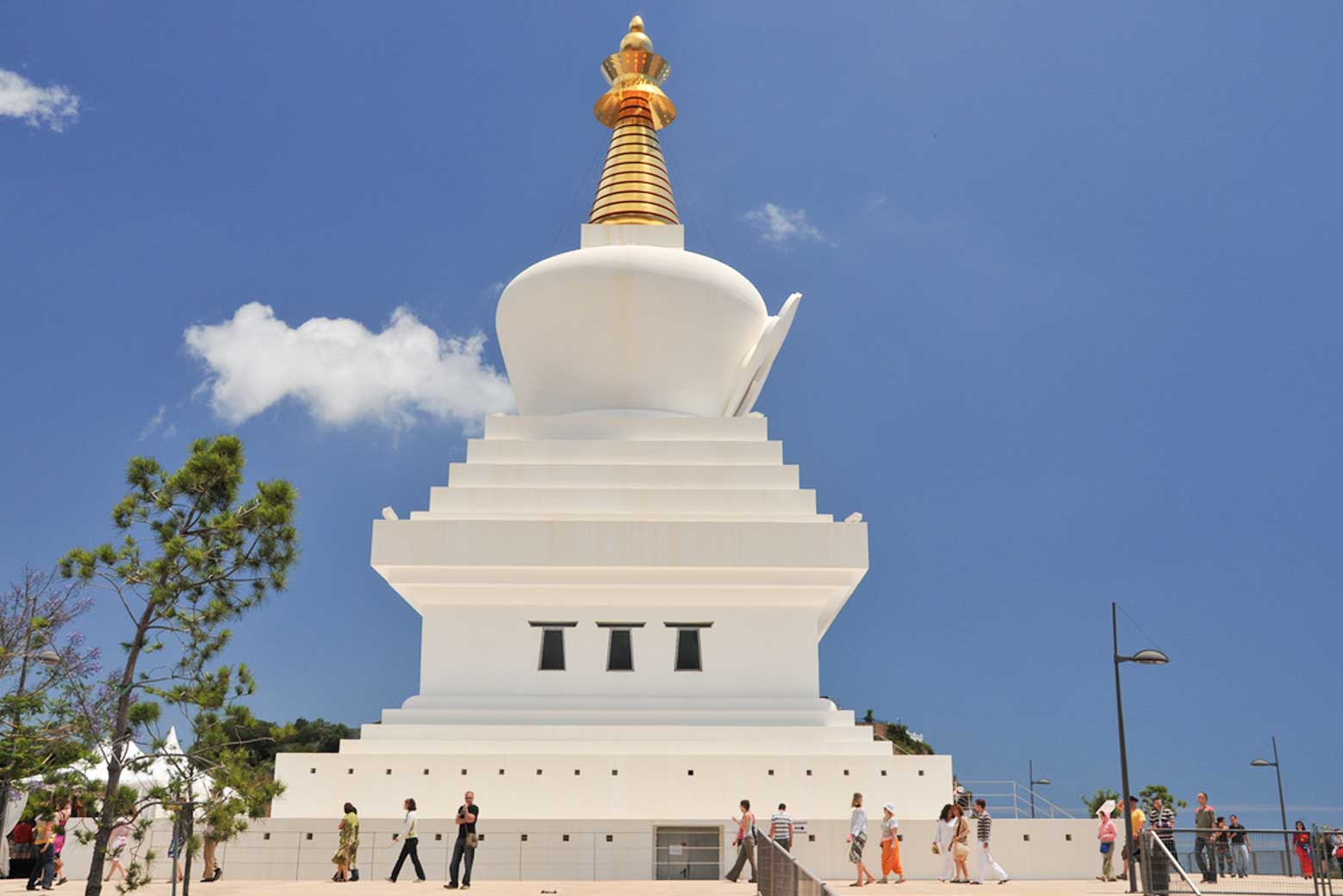 Sacred mandala
One of the richest visual objects in Tibetan Buddhism is the mandala.
A mandala is a symbolic picture of the universe. It can be a painting on a wall or scroll, created in coloured sands on a table, or a visualisation in the mind of a very skilled adept.
The mandala represents an imaginary palace that is contemplated during meditation. Each object in the palace has significance, representing an aspect of wisdom or reminding the meditator of a guiding principle. The mandala's purpose is to help transform ordinary minds into enlightened ones and to assist with healing.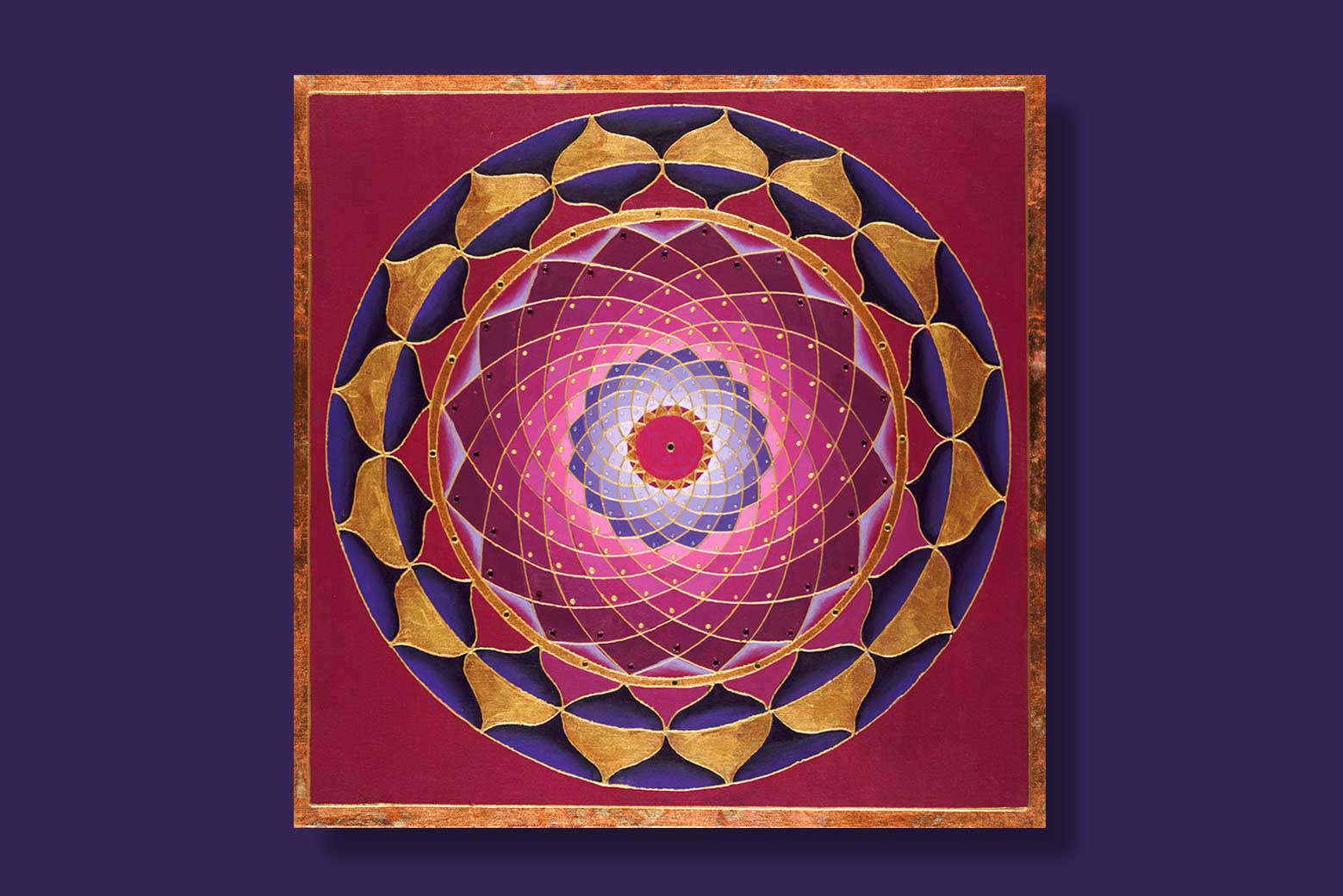 Meditation
is a mental and physical course of action that a person uses to separate themselves from their thoughts and feelings in order to become fully aware.
It plays a part in virtually all religions although some don't use the word 'meditation' to describe their particular meditative or contemplative practice. Meditation does not always have a religious element. It is a natural part of the human experience and is increasingly used as a therapy for promoting good health and boosting the immune system.
Anyone who has looked at a sunset or a beautiful painting and felt calm and inner joy, while their mind becomes clear and their perception sharpens, has had a taste of the realm of meditation.
Successful meditation means simply being – not judging, not thinking, just being aware, at peace and living each moment as it unfolds.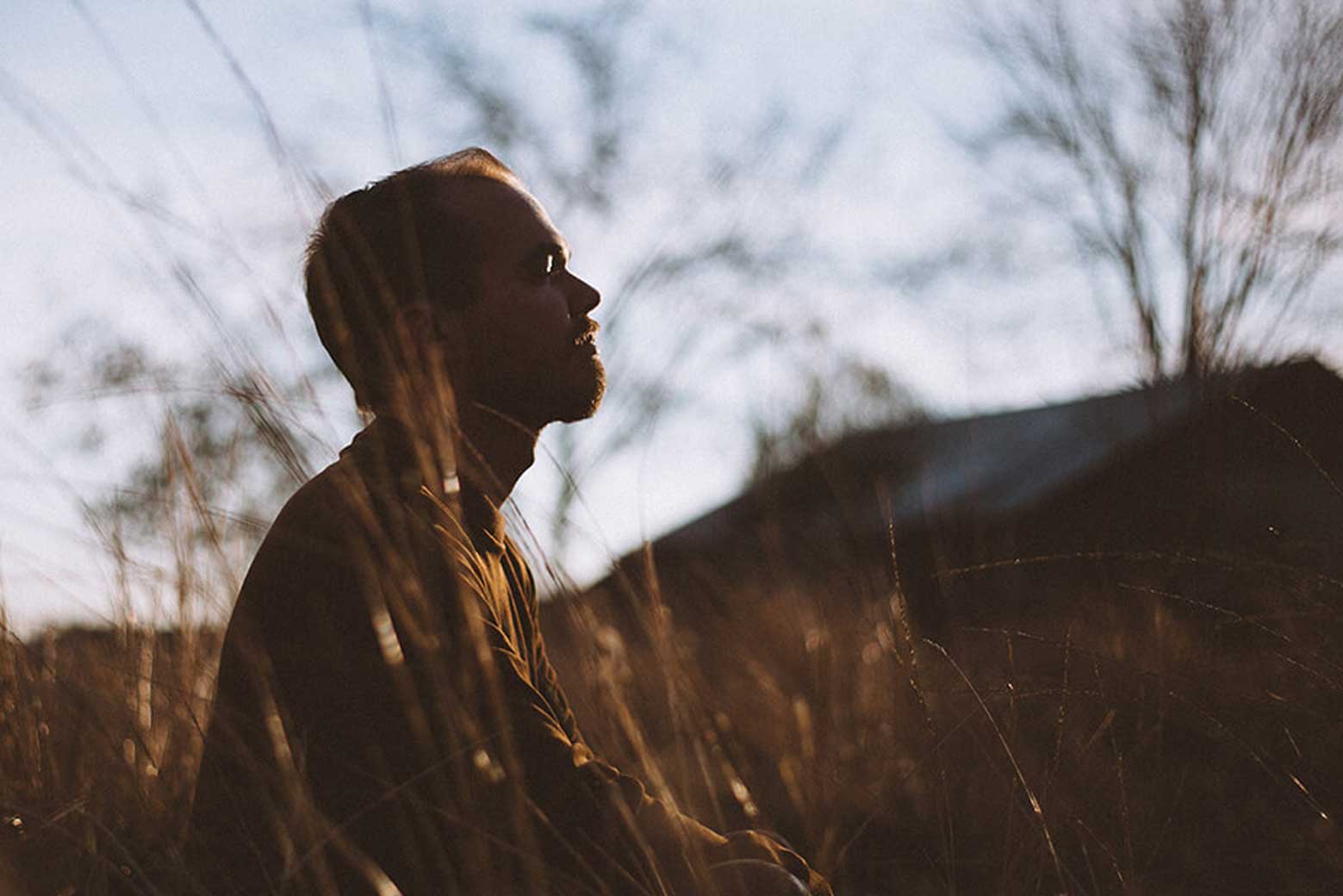 Main believes
The Four Noble Truths
"I teach suffering, its origin, cessation and path. That's all I teach", declared the Buddha 2500 years ago. The Four Noble Truths contain the essence of the Buddha's teachings. It was these four principles that the Buddha came to understand during his meditation under the bodhi tree.
The truth of the origin of suffering
The truth of the cessation of suffering and
The truth of the path to the cessation of suffering
The final Noble Truth is the Buddha's prescription for the end of suffering. This is a set of principles called the Eightfold Path.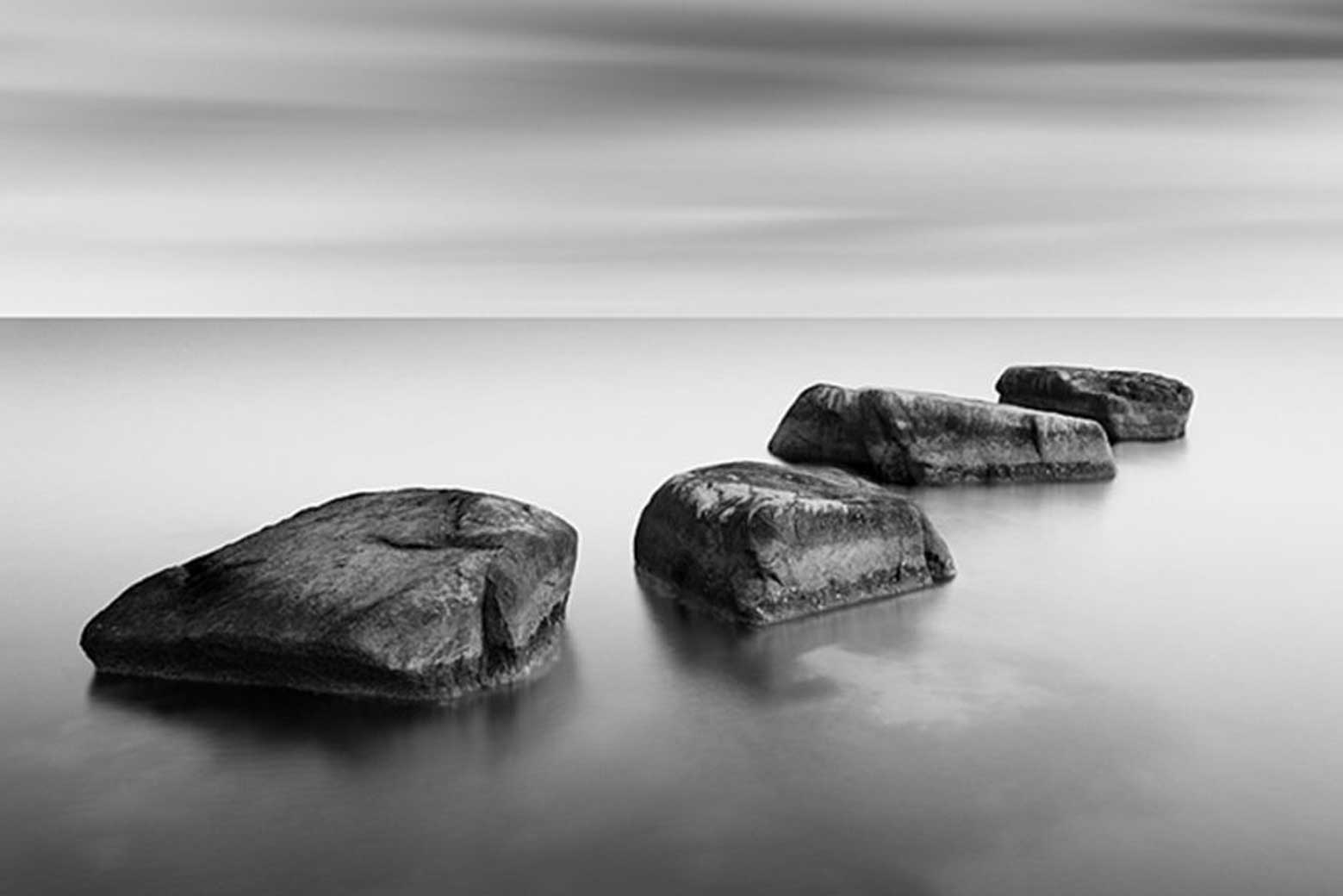 The Eightfold Path
is also called the Middle Way: it avoids both indulgence and severe asceticism, neither of which the Buddha had found helpful in his search for enlightenment.
The eight stages are not to be taken in order, but rather support and reinforce each other:
Right Understanding
Accepting Buddhist teachings. (The Buddha never intended his followers to believe his teachings blindly, but to practise them and judge for themselves whether they were true.)
Right Intention
A commitment to cultivate the right attitudes.
Right Speech
Speaking truthfully, avoiding slander, gossip and abusive speech.
Right Action
Behaving peacefully and harmoniously; refraining from stealing, killing and overindulgence in sensual pleasure.
Right Livelihood
Avoiding making a living in ways that cause harm, such as exploiting people or killing animals, or trading in intoxicants or weapons.
Right Effort
Cultivating positive states of mind; freeing oneself from evil and unwholesome states and preventing them arising in future.
Right Mindfulness
Developing awareness of the body, sensations, feelings and states of mind.
Right Concentration
Developing the mental focus necessary for this awareness.
Karma
is a concept encountered in several Eastern religions, although having different meanings.
Teachings about karma explain that our past actions affect us, either positively or negatively, and that our present actions will affect us in the future.
Buddhism uses an agricultural metaphor to explain how sowing good or bad deeds will result in good or bad fruit (phala; or vipāka, meaning 'ripening').
For Buddhists, karma has implications beyond this life. Bad actions in a previous life can follow a person into their next life and cause bad effects (which Westerners are more likely to interpret as 'bad luck').
Even an Enlightened One is not exempt from the effects of past karma. One story tells that the Buddha's cousin tried to kill him by dropping a boulder on him. Although the attempt failed, the Buddha's foot was injured. He explained that this was karmic retribution for trying to kill his step-brother in a previous life.
On a larger scale, karma determines where a person will be reborn and their status in their next life. Good karma can result in being born in one of the heavenly realms. Bad karma can cause rebirth as an animal, or torment in a hell realm.
Buddhists try to cultivate good karma and avoid bad. However, the aim of Buddhism is to escape the cycle of rebirth altogether, not simply to acquire good karma and so to be born into a more pleasant state. These states, while preferable to human life, are impermanent: even gods eventually die.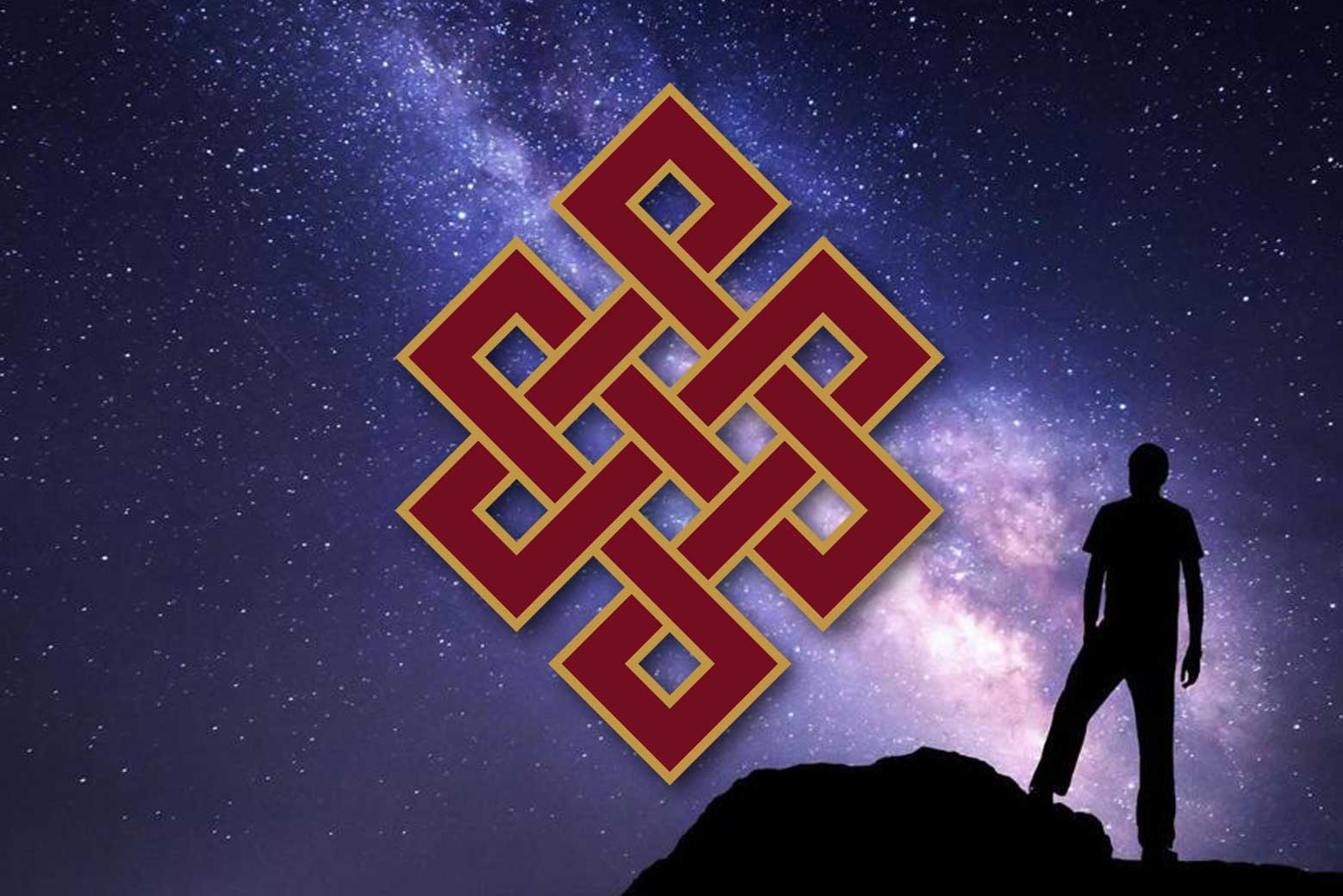 Holly day
Vesak
This most important Buddhist festival is known as either Vesak, Wesak or Buddha Day, and is celebrated annually on the full moon of the ancient lunar month of Vesakha, which usually falls in May, or in early June.
At Vesak Buddhists commemorate the birth of the Buddha-to-be, Siddhattha Gotama, his Enlightenment at the age of 35 when he became the Buddha and his final 'passing' into Nirvana at the age of 80, no more to be reborn. Buddhist scriptures relate that each of these three significant events occurred on a full moon of the Indian lunar month of Vesakha.
Death for the unenlightened, whose minds are still infected with desire, is followed by yet another life. But for the Enlightened who have extinguished all desire, including the desire to be born again, there is no more rebirth. So Buddhists don't usually refer to the Buddha's death but to his passing, into Nibbana or Nirvana.
Only by passing into Nirvana can a person end the cycle of death and re-birth.
As a result, all their greed, hatred and delusion is extinguished, which in turn means that there will be no more re-birth. The Buddha achieved the state of nirvana and this is celebrated on Vesak.
There are some cultural and local differences in how the various Buddhist groups and nations celebrate Vesak, but broadly speaking devout Buddhists will try to attend their local temple for at least part of the day, while some remain there throughout the day and night of the full moon. The celebration will include the practices of Giving, Virtue and Cultivation and the doing of good and meritorious deeds.
Giving usually involves bringing food to offer and share, as well as supplies for the temple and symbolic offerings for the shrine. Virtue is observed by reaffirming commitment to the moral precepts. Cultivation can include chanting, meditation and listening to sermons.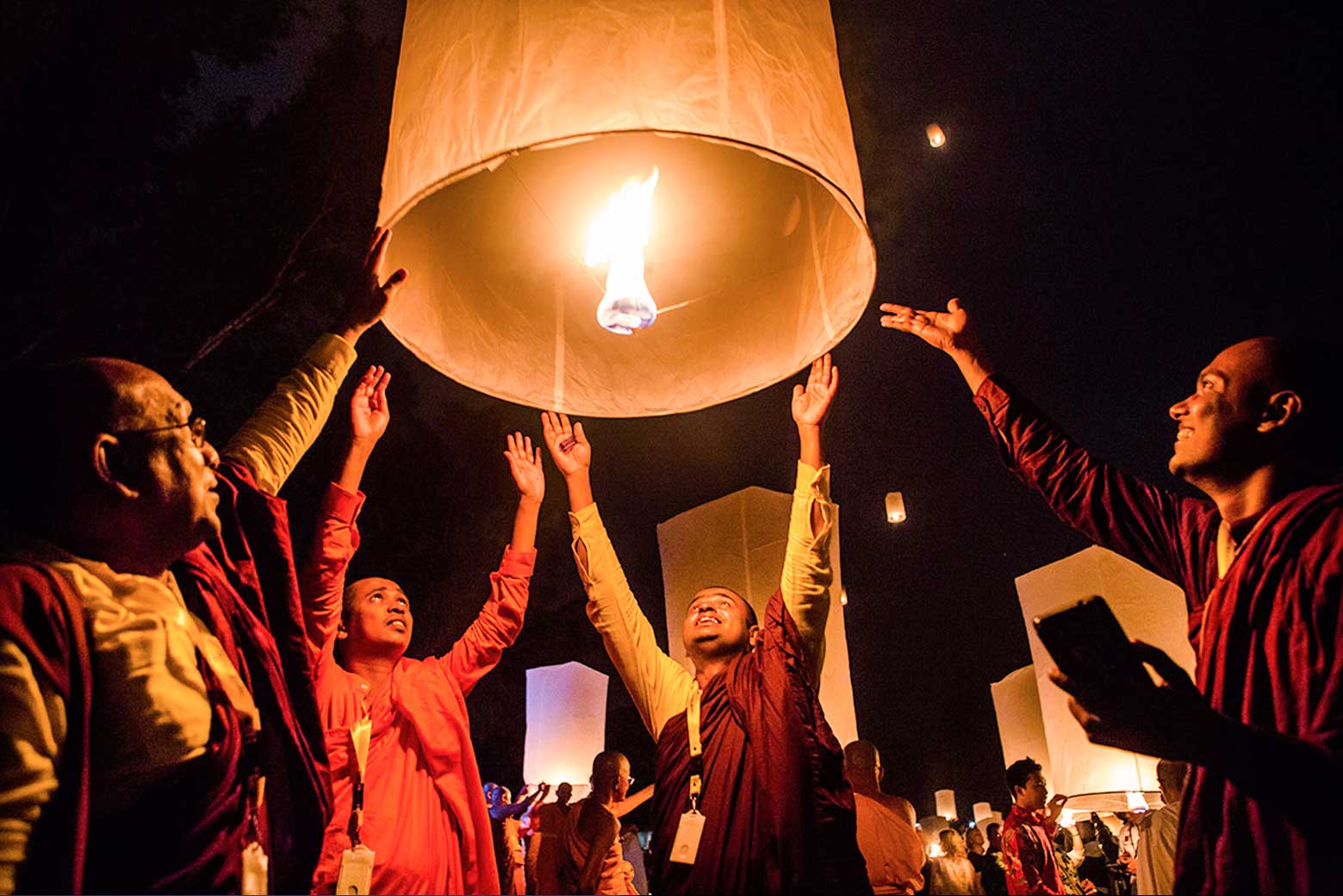 few photos from our film screening & discussion on Buddhism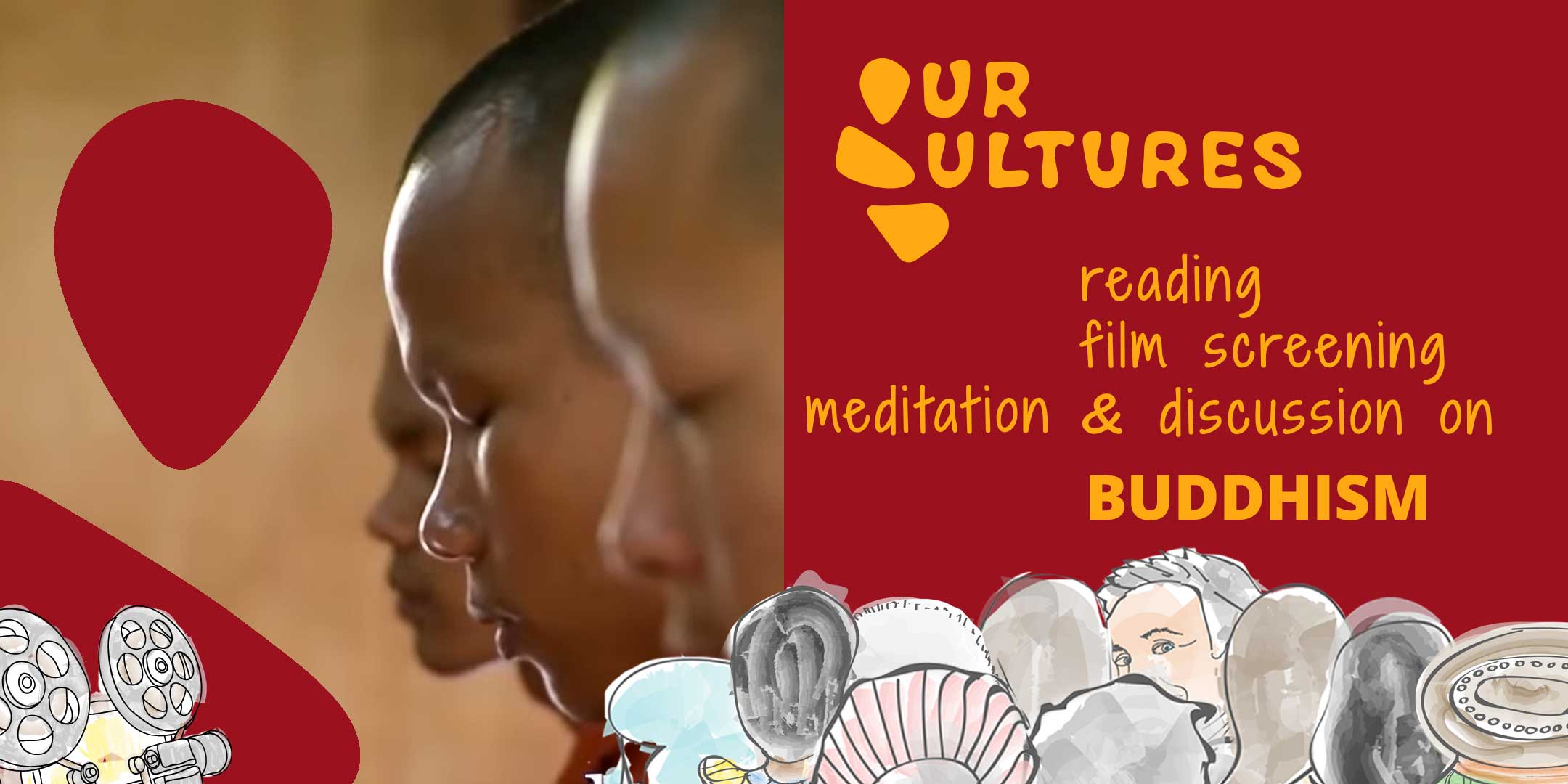 description of the past event
​Hello there,
Join us and the Our Cultures for a reading, a film screening and a discussion on Buddhism with a Tibetan monk and other guests from the Sheffield Buddhist Centre who will also guide as through a 10 minutes mediation.
We are going to have an exciting evening which will bring us closer to the culture of Buddhism, their values, believes and practices which have been part of humanity nearly for 2, 500 years.
Some of the Buddhist practices are considered to be the remedy for nowadays stress, anxiety and depression even by the western medicine.
Come and learn more about it. Feel free to call your family, friends and colleagues. Even bring a snack with you if you like. We'll brew a cup of a hot drink for you anyway.
______________________________________
5th February (Tue) 18:20
The Welcome Centre
______________________________________
entrance on Nottingham St opposite Pilgrim St
S3 9AW
The Our Cultures is screening films and documentaries on the first Tuesday of every month except summer and winter holidays. It's always good to check updates on our Facebook page or by subscribing to our newsletter.
To find out more also experience a cosy evening with us and a cuppa, join us for the screening at the Welcome Centre.
The event is entirely FREE of charge.
There is no money involved (directly) at all. No grants, no funds only people's will to do so.
MANY THANKS FOR YOUR SUPPORT AND SPREADING THE WORD.
See you there,
(entrance on Nottingham St opposite Pilgrim St S3 9AW)
Jozef
Our Cultures